Madrid Abierto, an art programme which held in February, is a yearly event that explores the way the public space is constructed from the sphere of art. Just like last year, the programme is packed with so many fantastic audio and visual installations that i wonder why i'm not there right now.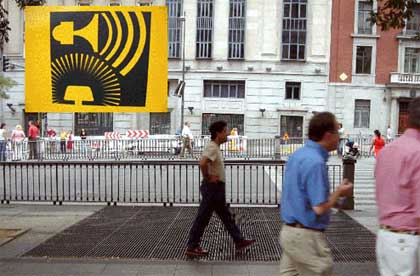 I particularly like Guantanamera which reflects on the use of music as a torture instrument. Located inside one of the air vents of the Spanish capital's subway that leads onto the street, the work can be experienced from the street.
High-amplification sound system blasts all the existing versions of the song La guantanamera, the best known Cuban song and the country's most noted patriotic song, including those of Celia Cruz, Los lobos, Compay Segundo, Tito Puente, Nana Mouskouri (who looks a lot like my mum btw), The Maveriks, and The Fugees, among many others, as well as versions specifically performed by artists and musicians for this project.
Guantánamo is a word of Taino origin, the aborigines of that area of Cuba, meaning "the river of earth�. It is in this geographical area where the USA naval base is located.
Currently, in the war against terror, the United States' military forces have used pop, rap and heavy metal music as a means of torture against detainees in military prisons. It has specifically been used in sleep deprivation techniques, as a base for systematic disorientation which, in the majority of cases, leads to madness.

Via one of my favourite blogs of the moment: Edgar Gonzalez. Other image in workplacegallery.
Related: Letter from Guantanamo: Jumah al-Dossari.