Radar Men from the Moon was the first serial starring Commando Cody, a civilian researcher whose mission is to defend our planet from the moon's evil dictator Overlord Retik. Cody's weapons of choice are a stunning rocket-powered flying suit and a rocket ship capable of reaching the moon.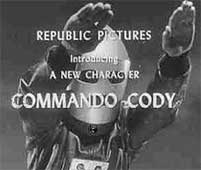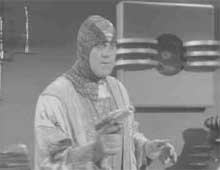 What makes the 1952 series particularly appealing is this statement found on wikipedia: "Virtually nothing really happens until the final confrontation with Retik in Chapter 12, and anyone who remembered The Purple Monster Strikes from seven years before had already seen all of that confrontation!"
You can download the episodes from google video: las insolitas aventuras del pez lists the 12 links for you. Second image found on this gem of a blog.