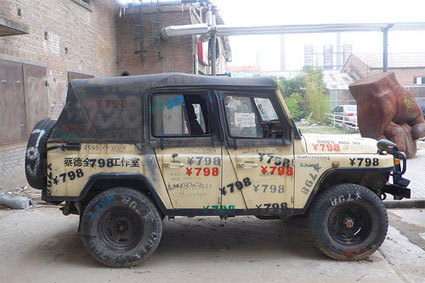 Roughly one year after my first visit there, i went back to the 798 art district in Beijing.
Everyone will tell you that the quality of art you can see or buy at 798 is getting scarcer by the day and that Ai Weiwei chose to install his studio and gallery even further from the city center, at the Caochangdi Village, making it the new 798. The art district, after all, is now the third most popular tourist attraction in Beijing after the Great Wall and the Forbidden City. How could so much mainstream taste and a stamp of approval from the government coexist with 798's supposed edginess?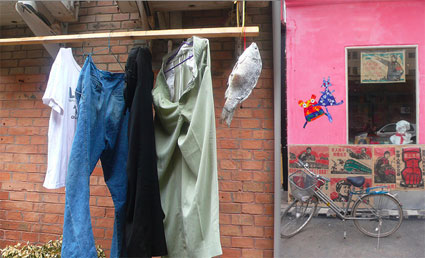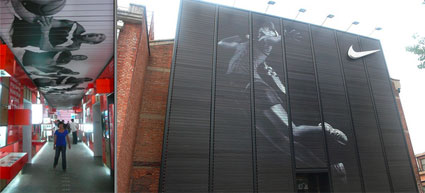 I don't have an answer for that but one thing i know is that the ex-factory district remains a unique and irresistible place. A 2 million square feet place. I doubt there's many semi-legal artist studios left in the area but where else can you have a peek inside small workshops doing car repair or industrial laundry, walk a few meters and enter a commercial art gallery with Maoist slogans still gracing its walls, find that some guy has hung his trousers and a fish in the street to get some fresh air…. and right after that you get slapped in the face by Nike's brand new 'museum', complete with touch ipods as audioguides, sneakers memorabilia, exhibitions and huge screens made of revolving panels on the outside facade and on the ceiling. More images.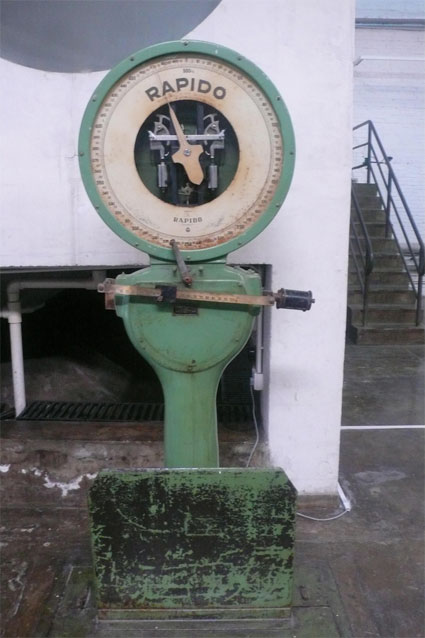 But all new openings in 798 have such a blatant and strict marketing aura. Launched a couple of months ago, Yuanfen New Media Art Space is a magnificently restored space dedicated to media art. It used to be a factory where ceramic resistors were produced. The gallery owner, Dave Ben Kay, has kept the original industrial potter's wheel and a Rapido scale. There's also a swimming pool upstairs at the disposal of any artist willing to create some site-specific and aquatic project.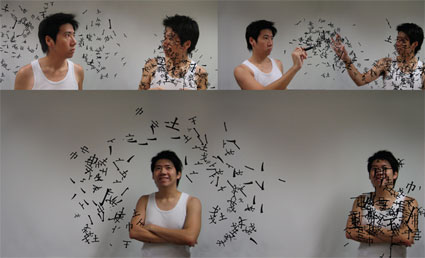 Hung Keung, BCSL Project (Version III)
As the opening exhibition of the gallery, Mind + Soul | Sensibility x Sensation presented a musical installation and 'sound paintings' of American artist Joe Diebes (video) as well as the interactive artworks of Hong Kong artist Hung Keung (video).
One of Joe Diebes' music installations was particularly impressive. String Quartet No. 2 is an immersive installation of phantom musicians who endlessly reproduce their final performance while the composition itself changes. Diebes recorded each member of a string instrument ensemble. Each gesture became an isolated sound file on his computer. He then composed a computer program that produces in real time the music one could heard in the installation. A set of algorithms controls when a given gesture will be played and what manipulation will be applied to it. A random component generates infinite variations of the piece.
Video showing Joe Diebes and Hung Keung's work at the Yuanfen NMA gallery:
The other new addition to 798 is the Ullens Center for Contemporary Art (photo set). The space showcases both contemporary Chinese and International Art, but to be honest with you my main ambition while i was there was to turn the shop upside down and get my hands on one of the little replicas of Sui Jianguo' plastic toy dinosaurs. Alas! i couldn't find any. Just a dinosaur shoulder patch.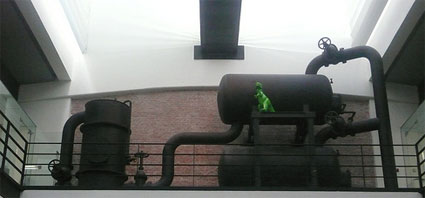 Above the Ullens Center for Contemporary Art shop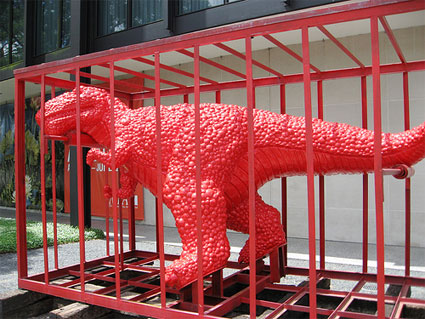 Sui Jianguo, Jurassic Age, 2006. Image from b2tse photostream
Stamped with a 'Made in China' sign, the giant toy creatures are the perfect incarnation of a nation which has become the factory floor of the world. One version of the sculpture has the animal caged in a shipping crate, turning the sculpture into an export itself.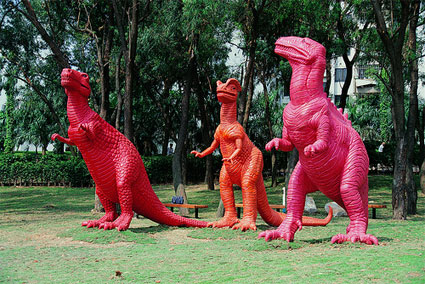 Sui Jianguo, Made in China (three pieces), 1999. Image courtesy UCCA
The artist has said: "The reason I enlarged the toys to such an enormous size is to highlight the political economic system behind [them]. Dinosaur toys are designed by some company from a Western country, and produced in China, then commercially distributed to the whole globe. It is the result of transnational capitalist production."
No pink plastic Godzilla for me then but there was some consolation waiting in the gallery: prints of Robin Rhode's works.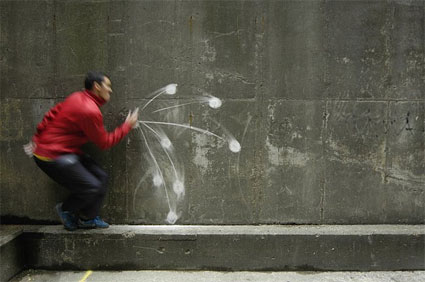 Robin Rhode, Untitled, Yoyo, 2005. Image Perry Rubenstein gallery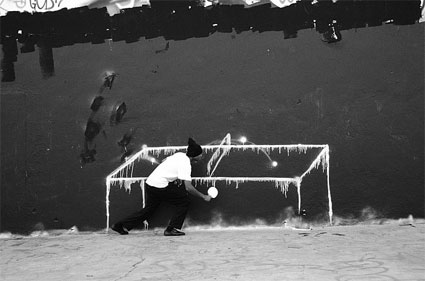 Robin Rhode, Table of Contents, 2006
Amelie Gallery was running Memory or Reality, a show focusing on Chinese young artists' nostalgic sentiments. The press release states that this generation has little experience of the hardship of life compared to Chinese artists born in the 1960s-70s whose past was much more intertwined with the country's political or social life. The private memory of the young artists is much more a matter of self-reference, abandoned toys, knocked-down old time cinema buildings, demolished Hutong where they used to play Red Army role-play games.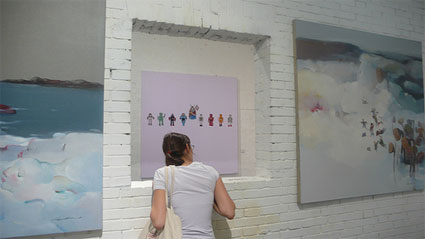 I particularly liked HuangKai's woodcuts,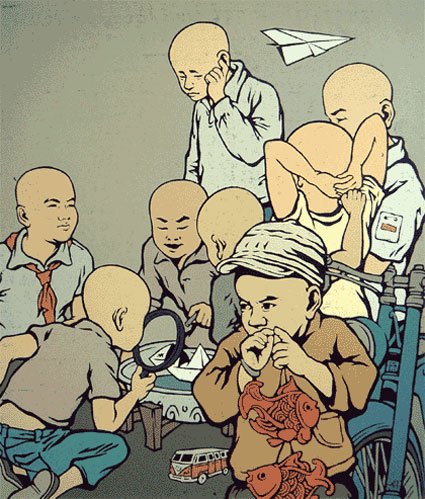 Ji Qing HuTong, 2008
Next stop was at the Paris-Beijing Photo Gallery which, exactly like last year when i first visited 798 was showing the very popular and charming photos on brick of Wen Fang.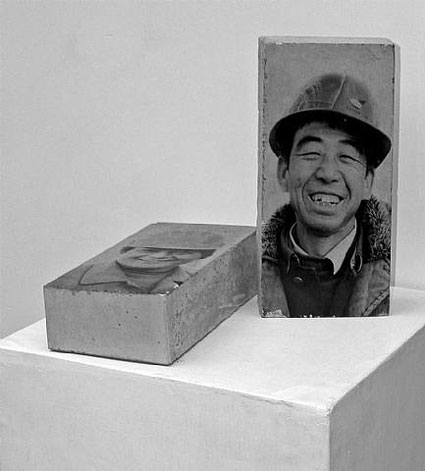 The Golden Brick: 'What are you looking at? You make me laugh!'
The New Golden Brick installation features portraits of migrant workers as the new terracotta soldiers. The building blocks are the humble support of a country in perpetual change. Unlike those used in ancient buildings, their lives are ephemeral as they are infinitely reproduced and replaced. Each of the migrant construction workers wears the mandatory plastic helmet, each of them is smiling, even if they are often (and rightly so) described in the press as the victims of China's urbanization frenzy.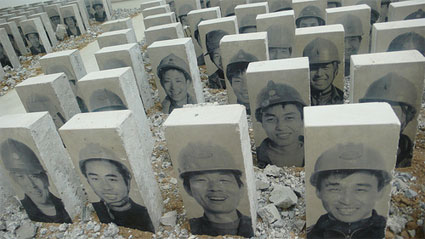 Hiroshi Kobayashi's Step into the Mist solo show at the Gallery Artside was populated by toy animals that seemed to be frozen in time. Kobayashi developed his own process where toys are arranged in space and then filmed. The painter then imports the images to Photoshop and Illustrator, adjusts values, fix the contrasts.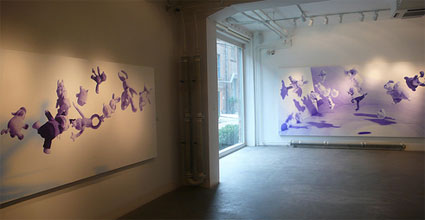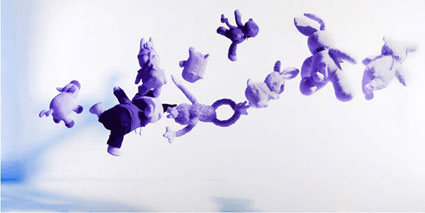 Out of Oasis, 2008
P.S. my visit to 798 was in June, most of the exhibitions i mention are now closed.
And another P.S. I hope you'll forgive me for glossing over the Olympics. Sport on tv has zero interest to me. Except for its current mix of sport and politics. That's the sad thriller of the Summer for me. All my sympathy goes to the Chinese who resist and denounce. Somehow, i manage to gather some optimism for China's future, but i have very little hope for what's going in the country where i'm spending the Summer. Right here, in the middle of Europe, human rights are crushed to the ground and almost no one seems to care.