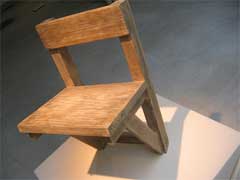 One of the best shows of the Fuori Salone in Milan is Great Brits: Ingenious Therapies, at Paul Smith's European headquarters.
The works of the 5 young UK-based designers in the exhibition address a particular human emotion or need – fear, fiction, fantasy; escape; stasis and calm; perpetuity – all of which express a very contemporary take on the need for objects to perform a function.
Hiroko Shiratori's Unusual Objects from Japan 1868-1945 was particularly charming. Her prototypes are inspired by the period that followed the sakoku, Japan's seclusion period that would last some 250 years. Each object, displayed like a museum piece, is supposed to translate the political, social and cultural changes brought upon by the opening of the frontiers.
The Meiji period, a time when the country started its modernization, saw the arrival of western style of eating. However, a number of injuries were caused by the mishandling of our pointy forks and sharp knives. This collection of cutlery using more traditional material were created to allow users to adapt to the new style in a smooth way (image below.)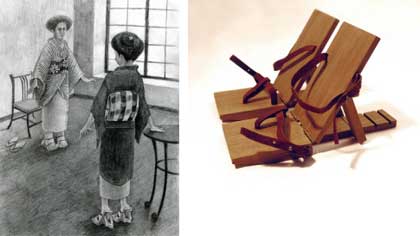 School uniforms started to show some influence from western fashions. A device was invented that woud allow the young girls to practice walking comfortably in high heels (cf. Wei-Chieh Tu's height-adjustable shoes.)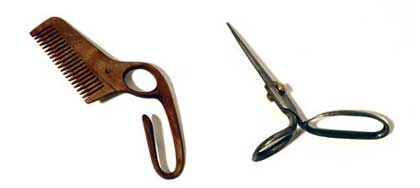 A Tokyo barber, who had lost his hands during his military service in the early Meiji period, was helped by the local community to design tools that could be manipulated with the feet.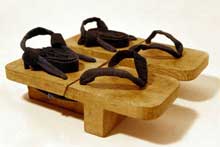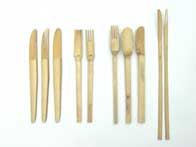 Benshi, live performers who provided live narration for silent films, lost their job with the introduction of sound into films in the '20s. Many Benshi became Chindon-ya, street musicians who dress up and advertise in the streets. One of them has such limited musical skills that he crafted some musical instruments that could be played by the most basic movements of his body. For example, flip-flops became two-part rhythm percussions that make sound as he walked.
Image at the top: a two-legged chair used to discipline children into sitting straight.