General Electric merged computer and scanning technologies into a remotely-monitored system that promises to get airport passengers through an automated checkpoint in 20 seconds.
"In our vision for the checkpoint of the future, no one will have to take shoes or coats off, or take anything out of pockets or take laptops out of bags," said Steve Hill from GE Security.
First travellers would press a finger to an explosive-sensing touch pad while checking baggage or getting a ticket.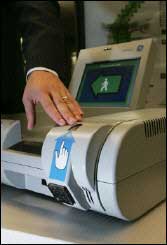 CAT scan devices would replace X-ray technology to scan carry on bags. Passengers would then step through a transparent "wave portal" capable of detecting "threat anomalies" such as weapons or bombs. Passengers would then step on a scanner that detects dangerous chemicals or other hazards.
The checkpoint was put together to test at San Francisco International during the past few weeks by GE technicians.
Via PhysOrg.