Catalin Lazia' Living Jukebox is a modular interface designed to browse, explore and experience music in your living room.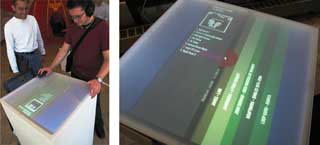 The horizontal display provides a unified gateway to access music from different digital sources. To select the music, you just have to place a cursor object and move it on the surface of the display. Each object signifies a different way to browse the music collection, and the interface changes accordingly when a different object is placed onto the display.
If the you want to explore a music collection the interface will provide the physical artifacts – cover, artworks and extra information – at a glance.
Two different modes were designed. The album collection mode provides easy access to tracks inside of albums or playlists. The internet radio mode allow a quick selection of a radio station, while having a multitude of radiostations displayed on the screen.