The Art of Fashion: Installing Allusions (Part 1)
The exhibition The Art of Fashion: Installing Allusions explores the intersection between fashion designers' boldest experiments and the world of contemporary art. 25 international artists and fashion designers participate to this exhibition. 5 of them were commissioned new pieces that investigate the convergence of art and fashion.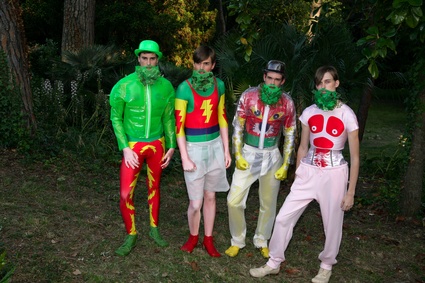 Walter Van Beirendonck, from the 'eXplicit' collection. Photo: Ronald Stoops
I'll start with my favourite fashion designer, Walter van Beirendonck. He's from Antwerp, he dresses men in insects or clowns or afro super stars. He doesn't usually design for women alas! Except last year when he made a paper dress covered with little dicks, stars, colours and a portrait of himself naked riding a bear. I bought one immediately. Meanwhile, Robin Williams was getting his hands on a burka from van Beirendonck. I'm sure the world would be a merrier place if more men would wear his designs. Look at this fabulous "Finally Chesthair" shirt. How can you resist?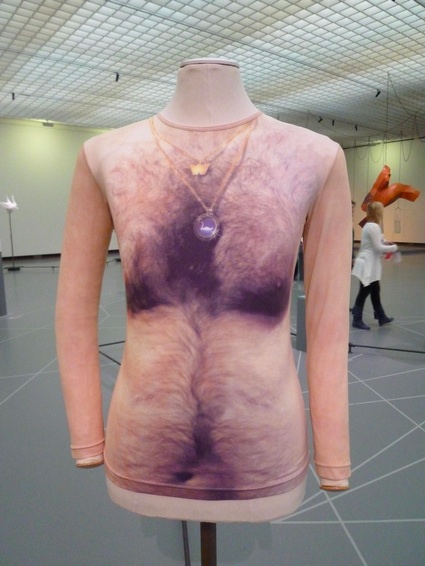 Walter Van Beirendonck, Finally Chesthair, 1997
Sometimes the designer has men as big and as bearded as himself walk his collection on the catwalk.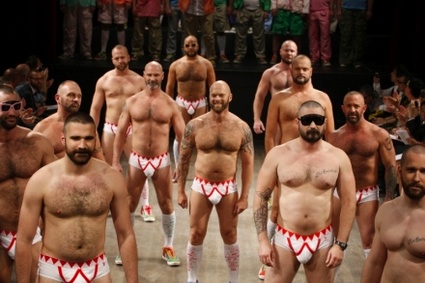 Photo: Capri Trendwatching Festival 2009
Notwithstanding my admiration for his work, i was underwhelmed by the sarcophagus he created for the exhibition.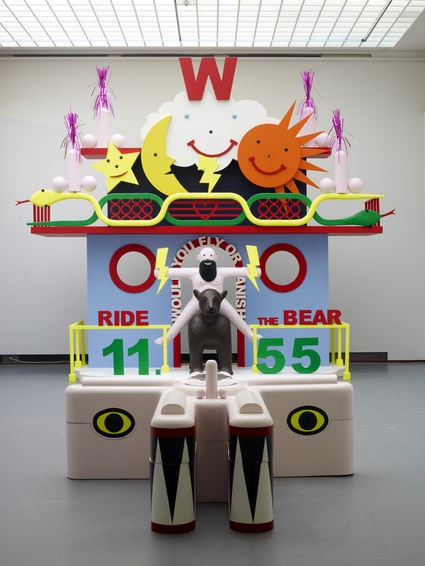 Walter Van Beirendonck, 2357-The Sequel, 2009. Photo Hans Wilschut
Van Beirendonck made an über pop temple where his sarcophage will be hosted in the year 2357. It's adorned with cheerful stars, an ecstatic sun, a statue of the designer riding a bear and little penises erected all over the place. There's only the façade of the temple, alluding to the idea that what matters in fashion is the outer shell.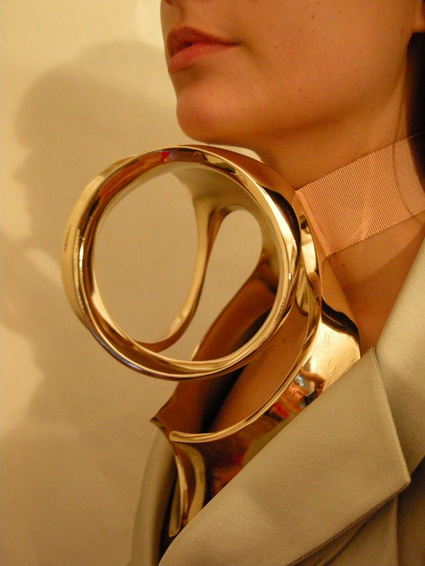 Naomi Filmer, Finished piece: 'Orchid Neck Piece' for Anne Valerie Hash S/S 2009 Couture collection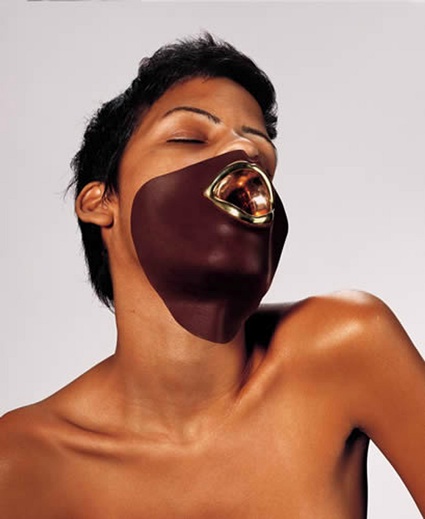 Naomi Filmer, Chocolate Mask, For Another Magazine 2001. Photo: Richard
Burbridge
Jewellery designer Naomi Filmer is interested in ennobling body's least celebrated places. The sculptures of her Breathing Volumes project focus on the space formed by the mouth, the chin and the neck. She made an imprint of her own contours, capturing the facial expressions that appear as she inhaled and exhaled. The result is not exactly jewellery but a sculpture that enters into a direct relationship with the observer.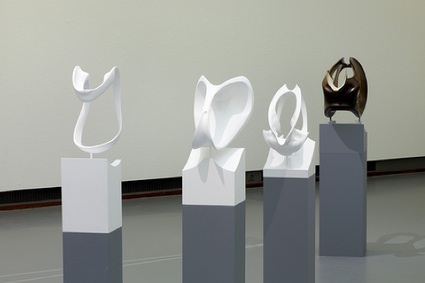 Naomi Filmer, Breathing Volume, 2009. Photo Hans Wilschut
(see her video interview)
Christophe Coppens had a somewhat similar approach. The Belgian designer usually creates lovely hats and delicate gloves. His No References project however puts the spotlight on 33 parts of the body that receive very little attention in fashion. This accessory collection has no reference, nothing to look back at. The design of each accessory starts with the shape of the body part, there's no reference to art, history, design, fashion.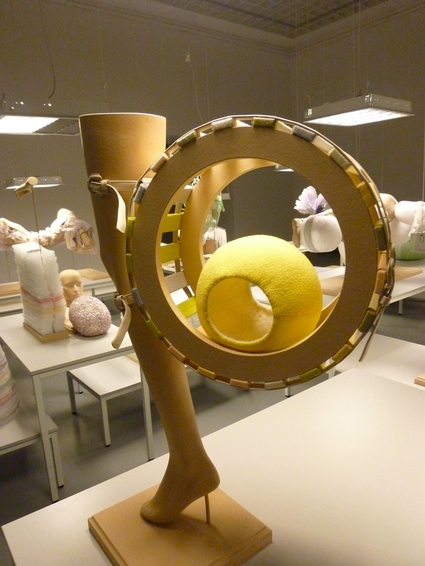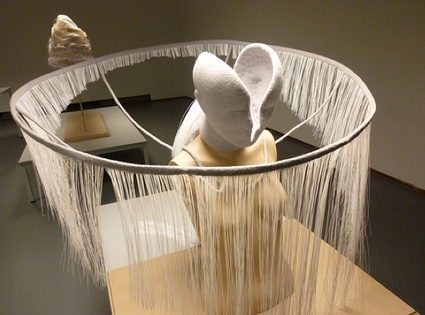 Most of the pieces are strapped to the body, some of them seem to be a bit wacky and maybe unpractical but they are always poetical and elegant.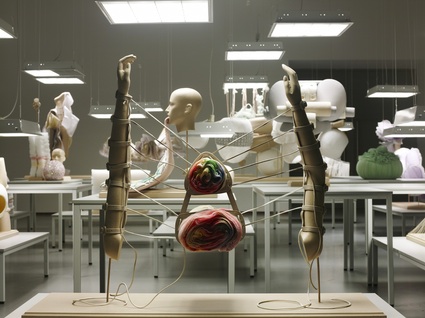 Christophe Coppens, No References, 2008. Photo Hans Wilschut
Hussein Chalayan's work is not purely sartorial, he rather relies on clothing as a way to tell stories but I don't need to present Chalayan, do i?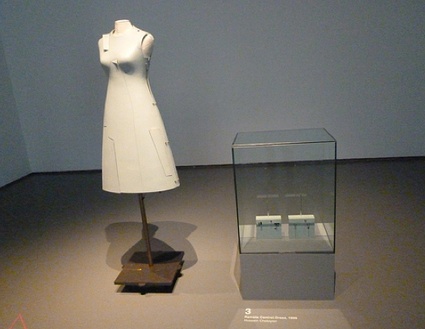 Remote Control Dress, 1999. Hussein Chalayan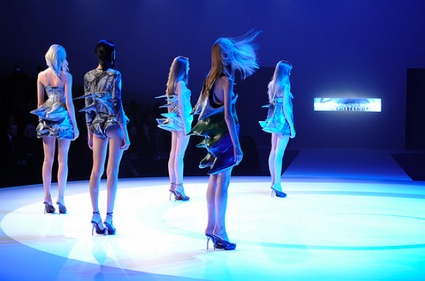 Hussein Chalayan, Finale Foam Dresses, collection Inertia, Spring/summer 2009. Photo Chris Moore, Courtesy Hussein Chalayan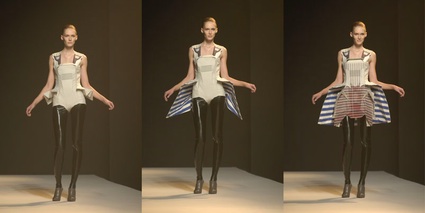 Hussein Chalayan, Mechanical dress made of silk and cotton from Airborne, 2007. Courtesy Museum Boijmans Van Beuningen
For his project "Micro Geography: a Cross Section", he placed a spinning mannequin in an aquarium surrounded by the elements of water, earth and air. Cameras film the mannequin's every movement and these images can be viewed on the screens nearby. The installation is meant to suggest a gelatin-like space that eradicates any sense of distance and remote experience.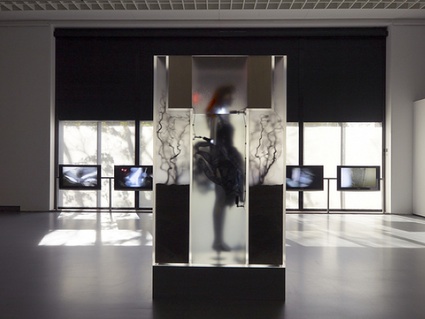 Hussein Chalayan, Micro Geography: a Cross Section, 2009. Photo Hans Wilschut
Anna-Nicole Ziesche doesn't produce any marketable clothes. She used to define herself as a fashion designer who make films. Now she prefers the term 'artist.' Her films transform fashion designs into visual objects.
In the film that the Boijman commissioned, she uses fashion as a pathway to memories and the way they can shape us. She made an exact replica of her childhood bedroom and wears a kind of knitted jumpsuit, its colours and pattern evoking the the jumpers she knitted herself as a child. The jumpsuit looks clumsily-made. It is actually made of two identical jumpers, one of them is worn as if it were trousers. Upside-down, like the world in the video.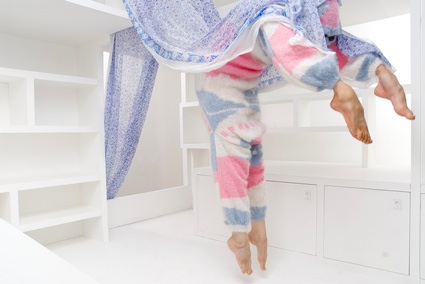 Anna-Nicole Ziesche, Childhood Storage, 2009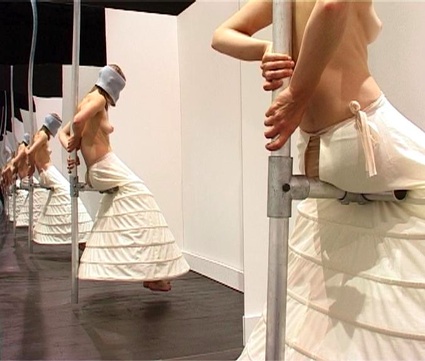 Ziesche explains her work in this video.
The Art of Fashion: Installing Allusions runs until 10 January 2010 at the Museum Boijmans Van Beuningen in Rotterdam.
A flickr set of the exhibition.