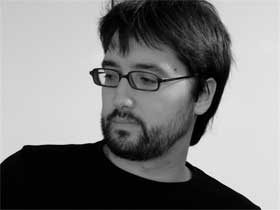 OFFF, a festival exploring software aesthetics and new languages for interactive and visual expression, will kick off in Barcelona next week in May 11-13. Which gives me a good excuse to interview one of its curators: José Luis de Vicente. JL also happens to be the co-author of one of my favourite blogs: Elastico.net and he was the first curator to invite me to give a talk at a conference. It was in 2004 at the ArtFutura festival. I've given dozens of talks ever since but none of them half as bad as that first one. José Luis was gentleman enough to pretend i did a good job. Anyway, when i hinted in my email to him that i was to write a lenghty introduction about him, complete with insights on his career, background, past, etc. he took the trouble to do it himself:
"My background is actually in journalism, although I have a degree in contemporary literature. I started writing about new media culture and about the Web around 1999; I feel I sort of belong to the first generation of digital journalists, that started writing online at the same time that on print. I was writing for three years for El Mundo, one of the main newspapers in Spain- I used to write a lot in el Diario del Navegante, the web section about technology and the Internet that was actually the first section of its kind in the Spanish Press. That's where i got to meet Nacho Escolar and Marta Peirano, my partners in Elastico.net along with Antonio Cordoba (Antonio and I went together to University, so I had known him for years, although he used to write for El Mundo too). I was also during those years an editor in Barrapunto, the Spanish Slashdot.
In 1999 also I started collaborating with ArtFutura, Spain's oldest (and one of the oldest in Europe) festival of new media art and technology. In 1998 the festival moved to my hometown, Seville. When I attended that year I had no background at all in new media art, but I was instantly and completely fascinated by what I saw there. I'll never forget the lectures by Gerfried Stocker, Derrick de Kerckhove and Eduardo Kac at ArtFutura that year, they were really mind-opening experiences for me. When the festival moved back to Barcelona in 2001 I moved with it and started getting more and more involved in new media projects, and less in journalism.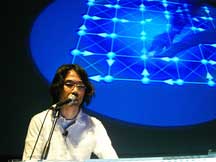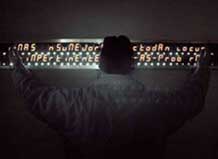 Toshio Iwai at ArtFutura (image by Javier Candeira) and Desparecen Primero las Palabras by Thomas Charveriat and Miriam Llorens
ArtFutura was my main project until 2004 or so; I still collaborate with them doing ArtFutura and the Spanish leg of RESFEST, but I am currenlty involved in curating and organizing many other projects. I am part of the organization team of OFFF and I curate the exhibition section, Showplace. I am also a consultant for Sónar, and have co-curated their main exhibition, Sonarmatica, for the last two years. I also started a couple of years ago Elastico.net along with Nacho Escolar, Antonio Cordoba and Marta "La Petite Claudine" Peirano. Elastico intended to be more than a blog; it wanted also to be a plattform to develop projects. Our first big project, that we co-directed with Oscar Abril Ascaso, was COPYFIGHT, a cycle of conferences, documentation areas and events around Free Culture and the War against Copyright that took place in Barcelona from july 2005 to february 2006. COPYFIGHT is not over yet, it's an ongoing project that will have future new activities, like a book that we expect to put out this coming years.
I am also teaching Interaction Design and New Media culture and theory at several universities and Design Schools in Barcelona, mainly at Elisava School of Design. I write ocasionally in El Periodico de Catalunya and in other publications. And I try to blog at Elastico.net as much as i can, but lately I haven't had much success doing it, which makes me very very sad."
OFFF is not the only festival in europe dedicated to software aesthetics and interactive and visual expression, so how do you manage to attract big names such as Ben Fry & Casey Reas, Bigspaceship, Kyle Cooper, Marcos Weskamp, Marius Watz, Waskman, WeWorkForThem, Zach Lieberman & Golan Levin, etc. What's OFFF secret (apart from Barcelona's sol y playa factor)?
Well, obviously people usually are very keen on coming to Barcelona to spend some days in May, so that has hardly hurt the event. But really what has made OFFF a success is that for some reason it felt different from the beginning to most other events, and the artists participating noticed it. OFFF used to be actually closer to a conference than to a festival, but it doesn't feel like a conference at all, the vibe is much more relaxed and enthusiastic. Although the main attraction of the festival are usually the talks, they tend to have a big performative element, and regular participants like Joshua Davis, Amit Pitaru and James Patterson usually show a great level of showmanship in their presentations; someone said that OFFF sometimes feels in spirit closer to a Rock concert than to a conference….Also the crowd is very enthusiastic, and the fact that it's also very international (half of the OFFF audience comes from all over Europe) creates a very interesting atmosphere.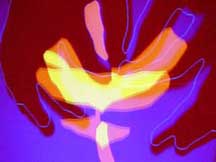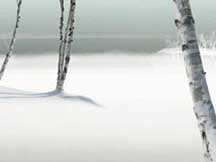 Tmema (Zach Lieberman & Golan Levin) and Wig-01
OFFF is not just an appointment for big names, the festival dedicates also a space for new talents. Is there a selection of the works that are presented at Openroom? What's happening there? How should a new talent prepare itself for his/her presentation? Any tips to help them vow the crowd?
Openroom was an idea that appeared several years ago; instead of using a top-botton approach in the curation process, let's see what happens if we do it the other way arround, opening a call for presentations. Participants are then chosen among all entries received, and given the chance to present in this area. It has been interesting as it has allowed us to discover many artists and designers that we wouldn't have heard about in any other way. The fact that several people that started presenting in Open Room have gone in the following year to present on the main stage is for us the best sign.
And tips? rehearse, rehearse, rehearse, but don't learn your lines by heart. Best presentations are usually those were the speaker knows his discourse and is completely sure about what he/she wants to say and show, but at the same time is relaxed and feels comfortable on stage. Also use images and words so that both complement each other, not comment on each other all the time.
If i get it right, it's the sixth edition of the festival. How has the festival evolved over the years in terms of content, ambitions and structure? How do you manage to keep in touch with the ever-changing world of software aesthetics and interactive + visual expression?
Originally, the festival was much more focused on web design and in the Flash/Director scene; it felt closer to Flash Forward or Flash in the Can. Through the years, this has evolved so that currently the festival encompasses many more aesthetics and forms of expression: from illustration to graphic design and motion graphics to generative and interactive art. I would say the festival lineup is now a combination of 50 percent commercial work coming from studios and agencies and 50 percent work from artists and experimental designers. We say that OFFF "explores software aesthetics and new languages for interactive and visual expression", which sums up our range of interests.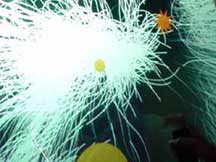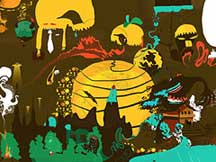 Ben Fry & Casey Reas and WeWorkForThem
Regarding the different sections of the event, the conferences and talks are pretty much the heart of the festival, but there are another 2 sections that are becoming increasingly important for us: Loopita, the music section, that from this year onward features performances by musicians working with netlabels, and Showplace, the exhibition area that I curate. This year we are doing our first proper exhibition, "Drawing / Painting / Sketching", about handdrawn dynamics and aesthetics in the digital medium, with around 20 different projects by artists like Casey Reas, Zach Lieberman, Jurg Lehni and many others.

What's the theme of this year's festival? and why?
The theme of the festival is not so much a proposal for a topic to be discussed, but an inspirational sentence that any one can take and use in a different direction. Past themes include "I am not a Digital Artist, I am a…" and "Things that Never Existed". This year is "Lovedays – The Great Rock'n'Roll Swindle." We are always surprised with the things people come up with after having to give an interpretation or an use for these sentences…
There seem to be so much going on in Barcelona if you're interested in the so-called new media art. Madrid seems to promote a more traditional art scene. How do you explain such difference?
There's a very long tradition in Barcelona of innovation and experimentation in fields like Design, Architecture and the fine arts. Madrid however feels more "authentic" to many people…This has been like that forever; Madrid was more direct and spontaneous, Barcelona more sofisticated.
For the last 10 years, Barcelona really took the lead in creating a proper scene for digital arts in Spain, in part because it belonged to its tradition, in part because it had much better luck with its politicians than Madrid (Madrid has had horrible politicians in this sense for many years). But watch out for Madrid; things have changed a lot there in the last couple of years and the excellent work that Medialab Madrid, La Casa Encendida and Dorkbot Madrid have been doing is definitely having an impact now.
Which artists or designers from the Spanish digital scene should we keep an eye on?
I really like Inklude, a studio from Valencia doing excellent work with dynamic typografies. There's many people doing very good stuff, like Santiago Ortiz, Victor Viñas, Diego Diaz and Clara Boj, or La Mosca in the commercial arena. Some older people like Antoni Abad have also produced great meaningful projects recently.
I read very positive feedback about the COPYFIGHT events you organised together with the elastico bloggers and Oscar Abril Ascaso. Do you plan to organise others in the future? Does the message come across well and broadly or do you feel there's still a lot to fight for?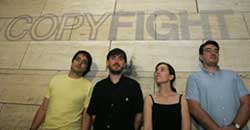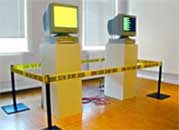 Image Pixel y dixel (via) and Crime Scene by Mogens Jacobsen.
COPYFIGHT intended to be a once in a lifetime thing for us, it was a huge amount of work and we thought it would be very difficult to repeat – we did a completely free 3 day event with a very low budget convincing people like Lawrence Lessig, Cory Doctorow, John Perry Barlow or Jimmy Wales to take part in it. However, we feel very strongly about this fight and we cannot let the project go – it will definitely go ahead in different forms. What it will not be for sure is an anual festival – we are more interested in seeing it mutate and change formats as we go along. If all goes well the next stage of the project will be a book…
There is a lot to fight for everywhere in this fight; threats are growing by the day. And raising awareness was the way we felt we could contribute to it, at least in our area of influence…
José Luis de Vicente writes, teaches, organises or curates several festivals and exhibitions and he even attends or talks at god knows how many events in and outside Spain each year. Surely it's not the same guy we're talking about. Do you have clones? Sn army of assistants? Drink a magic potion? How do you make it?
Strong breakfasts and a monthly unrestrained need to pay the rent…
Thanks a lot JL!
Coming next:
Extend: Advanced Processing Workhop, Barcelona May 8 – 12.
OFFF BCN, Barcelona May 11-13.
Sónar 2006 Exhibition, Barcelona June 15-17.