Nicholas Zambetti has just graduated from Interaction Design Institute Ivrea and i have no worry about this guy's future. Have a look at some of the projects he's been working on during his studies and you'll see what i mean: the Egg, Quattro alarm clock, Zen in a stone and Arduino.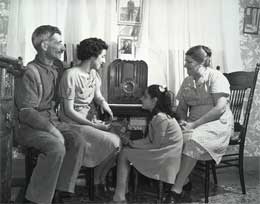 His thesis project is another confirmation of his talent. Occasional Coincidences looks at how systems that recognize and present meaningful coincidences can be designed.
In the past, scheduled TV and radio broadcasts carried with them an implicit occasion. Housewives would schedule their tea time to enjoy a soap opera. Upon hearing the introduction to their favorite detective show, children would rush to their room in search of their secret decoder ring. After the dinnertime variety show, fathers would sit by the radio or television for the nightly news. These now quaint examples of media occasion demonstrate how scheduled media broadcasts stimulated popular discussion and supported social behavior indicative of commonalities of interest.
Unlike the collective cultural rhythm fostered by scheduled media broadcasts, today's on-demand media has encouraged media isolationism.. We've become immersed in ourselves, fiddling with personal media players loaded with enormous amounts of music and video in hopes of crafting the perfect soundtrack to our daily lives.
However, the personal nature of our media selections offers opportunities to build meaningful media-related social behaviors and relationships. Coincidences of media selection can be a meaningful indication of similarity between people and can act as a mechanism to reintroduce media-centered social occasions.
Zambetti designed two retro-looking objects and a software that recognize synchronous coincidences as they occur. For him, coincidence-awareness supports the personification of objects and software, deepening our relationship with them.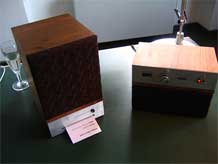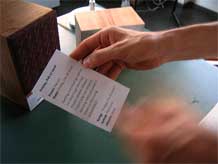 Message being printed on the Timely Speaker
The Timely Speaker is a modified hi-fi speaker that turns digital music into a messaging channel between people. Messages are attached to songs, delivered and printed only if the recipient plays the song during a date or time interval specified by the sender.
Synch Television sparks dialog between friends who happen to be watching related TV shows or movies (perhaps movies made in the '60s or TV shows of the same series) at the same moment. When the tv kit detects a coincidence, it informs you of its existence and nature. The special antenna would bend and rotate, pointing in the compass direction of the other people involved, indicating you are tuned into each other's 'channel'. Touching the trembling antenna would cause it to calm down and display an on-screen message that would say, for example, "Coincidence Found: Your friend Myriel is watching a movie by the director who made the movie you are watching: Peter Jackson."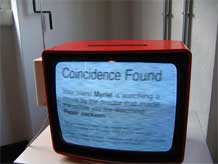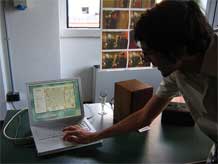 Synch television and Nicholas explaining Musincincidence
The Musincincidence software application enables people to actively search for coincidences on a map. Compositing information as markers on a map, it displays the current and recently played songs of all people connected to the system.
Some of its features:
The song display offers information about songs currently playing on your computer. By 'listening' to software jukebox programs, it uses the Last.fm system to record usage for reporting to a central database.; each map marker (icons on the map) represents a registered user. Clicking a marker will reveal more information about that person and their listening activities. It will also allow you to contact them via real-time chat if they have supplied contact information; a Likelihood Slider allows to adjust the criteria for coincidence detection (moving the slider to the left results in criteria less likely to result in coincidences and moving it to the right results in criteria more likely to result in coincidences); the Specific Criteria checkboxes control specific parameters of coincidence detection: tempo, song, artist, album, and record label, etc.