Last Saturday, i visited SUPERNEEN at the Galleria Pack in Milan.
The show aims to demo the best of Neen Creations (art/architecture/fashion/design/music/writing/style) from 2000 to now.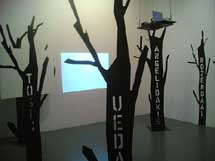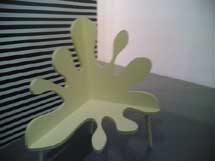 In the online project Neen World ("a new type of urban space where computer avatars discuss the future"), every place in the village represents aesthetics or ideas of the different Neenstars. People could have their building "made" in the same way that you could have a suit made for you from a Fashion designer. However it was all for the computer screen, which you could visit online using an avatar body and was part of the Active Worlds Universe.
As a development of his NeenWorld scenario, Andreas Angelidakis "animated" some of those spaces for the real place of the gallery. During two months, Neenstars are invited to use the space as their office or to use it for concerts, performances etc.
I wasn't expecting anything from that exhibition which might explain why i liked it so much. There was no one but me and projections, music that put me in a good mood, silhouettes of trees, pink and yellow furniture, etc. Be sure to pop up if you're at the Salone del Mobile next month.
Press Release. My flickr images.
I was also just in time to check the Beautiful Losers: : Contemporary Art and Street Culture show at the Triennale in Milan, an exhibition featuring the work of more than 50 artists inspired by skateboarding, graffiti, punk and hip-hop culture.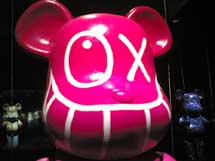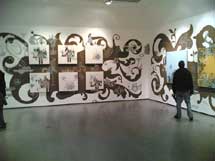 Detail of a customised BearBrick and installation by Ryan McGinness
Beautiful Losers is organized into five sections: Roots examines the work of the forefathers (from Warhol to Basquiat); Beautiful Losers, the core of the exhibition; Soundscape is an audio project by Tommy Guerrero; Ephemera includes album covers, clothing, skate decks, toys, etc; and a film and video program includes works by Spike Jonze, Harmony Korine, Mike Mills, and others.
It was an easy to love show, the glittery BearBrick installation was kids favourite. On the minus side, the motorized mannequins that simulate the act of tagging a wall with graffiti were a bit naff.
The exhibition is already over but it's touring in Europe and will head to Asia in 2007. Next stop is at the Tri Postal, in Lille, France, where it will be presented as part of the Skate* event, an installation measuring over 3,000 m2 on the culture and history of skateboarding. From 12 April to 2 July.
My flickr pics (worse than usual cuz i had to hide from the guards to take them. What a risky life!) and others' images.
More, more, more! There's a video documentary on the show's website and Fecal Face has picture of the opening in San Francisco..
Interviews of Aaron Rose, responsible for the show with Christian Strike, on Fecal Face and on CC Rooms.