No one dons the moustache like Fernando Llanos. He's a video artist, a musician, a writer, a blogger, a curator, he makes drawings i'd like to steal, he's the über macho-looking Mexican guy who walks around the city with a chihuahua in his bag. He also produces tv shows, works on Animasivo –a festival of animation in Mexico, and the moto of his own radio programme is: "Porque no hace falta hablar de arte para hablar de arte" ("There's no need to talk about art in order to talk about art"). When he's not performing Fernando Llanos is always impeccably dressed. Come to think of it, he's probably the one and only media artist whose sense of style i admire. Fernando is from Mexico city but we met in Brazil. Women were offering him drinks, men were trying to trade shirts with him. We saw each other again a few days ago in Mexico where i was staying for the Transitio_mx festival.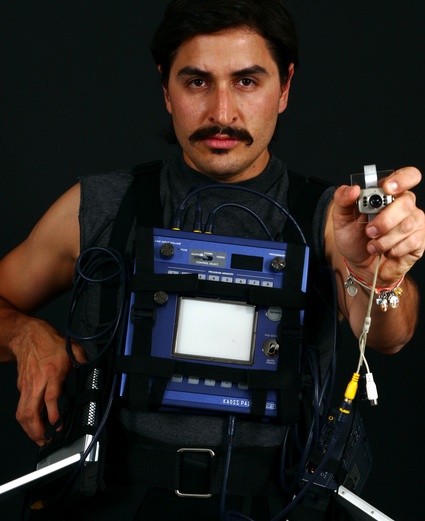 Let this portrait not delude you: Fernando Llanos usually wears no moustache
Fernando gained fame with the films and messages he projects over public spaces around the world. He carries all his equipment on his back, on a bike or on a skateboard. His projections are site-specific. For his first video performance, he projected airplanes crashes on the airport of Porto Alegre in Brasil. He built a superhero aura and mythology around his performances. When he screens, he's not Fernando Llanos anymore, he is Videoman. He's got the posters, the figurine, the attire, the cool gadgets, he even has the superpet. As he says: Just like Batman has his robin, Superman has his dog Krypto, Videoman has Chamaco!! Recently Videoman was at the Mapping Festival in Geneva and introduced the crowd to the Videohuahua, a chihuahua screening angry chihuahua barkings outside an art gallery in the center of the Swiss city.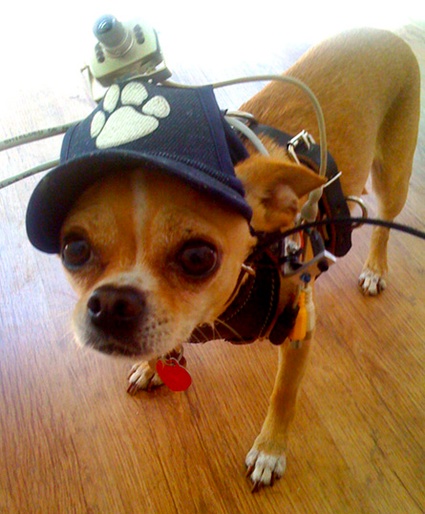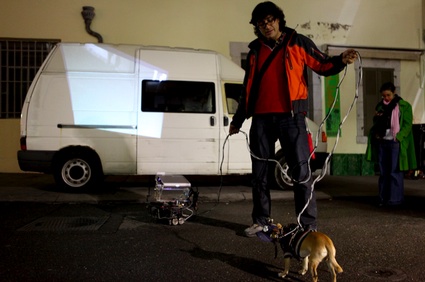 I'm glad i'm gettting back on the interview road (the last one dates back to March) with Fernando Llanos:
I read somewhere that one of your moto is "Se feliz: consume vídeo". Which kind of video could make us happy? And how?
The slogan of my website has been, all along those 9 years BE HAPPY CONSUME VIDEO.
Ten years ago or so, when i was starting to do some widespread cultural spam in order to promote my video exhibitions, i was looking for a sentence that i could identify with and that people would remember easily. There are slogans in Mexican publicity that promote the consumption of vegetables or water (healthy things): "Eat fruit and vegetables", for example. So i decided to create mine, right from the start i wanted it to kick off with two concepts that are important to me: To BE (to be something in life, whatever you like as long as it enables you to exercize your existence) and HAPPINESS (i see myself as a hopeless eudaimonist).
The slogan contains two intentions. The first one is to underline with humour the consumption of what i produce: video, and i do it using the same sentence tone as advertising, at least the one legally handled in here. Here slogans such as "eat fruit and vegetables" can only be part of some advertising campaign.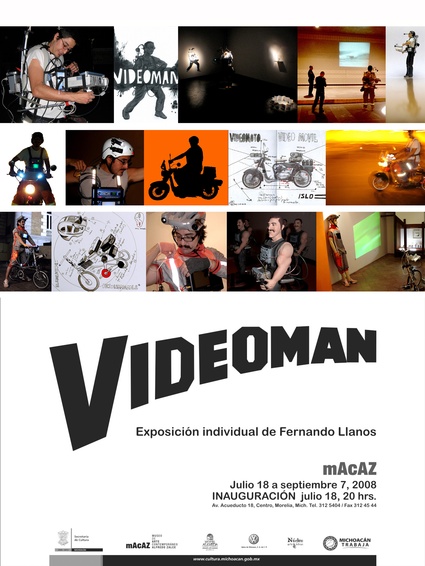 But the real motivation is also a more complex one, or at least one that is more refined, it is the one i mention in the conclusion of my thesis "Video online: New Spaces, New Narratives" where i summarize the work i made with video and internet. I do it this way:
"The video format online becomes more flexible and participatory, and this concerns as much the artists as the public itself.
I'm looking for new strategies that would connect my production with people, it seems to me that the abyss between the sacred art of the museum and the oi polloi is getting wider. I think that art needs to connect more directly with all kinds of people or at least that art should be looked at with new eyes, and to achieve that we need new, less complacent and less passive strategies.
Mi battle cry has been so far "Be happy, consume video". If the word "video" takes its origins in the first person of the indicative present of the latin verb and means "I see", the proposal is therefore that everyone consumes what they want to see and share online their own iconosphere. Besides, in a country without memory, we should make our own history and show it online to the whole country and to the rest of the world. Let's stop importing references and which medium is more adapted to that than video?
I'm interested in shared reflections. Over the past four years i found confirmation of my belief: over 1000 persons, of any type of profile, from every part of the world, have received video each week by email. And over 3 millions visits on my webpage make me think that there are ways to achieve this.
The future cannot be only for artists, nor can thesis be solely for university graduates or members of ecclesiastical councils."
The funny thing is that i wrote this text just as i was working on the first drafts of Videoman. Somehow i see similar intentions and common grounds.
During one of your presentations at the festival arte.mov in Brazil you defined your video performances as 'urban acupuncture.' Can you explain us what this involves? Do cities really need to be submitted to acupuncture?
What i do is indeed a performance but i would rather call them Video-interventions. They consist in the projection of moving videos in the city. I chose specific location where a dialogue between the space and the screening can take place. I've done over 30 video-interventions in 5 different cities in 3 yeas. Each of them aims to be different from the others, to show a peculiar way to interact with people or with a specific zone, you can watch the videos online.
This is how i describe them in the catalog:
Series of video-interventions in public space: avenues, monuments, squares, shopping malls, etc. Such acts aims to grab the attention of passersby in a direct and surprising way. They are ephemeral because of their mobile nature and they are mobile thanks to a personal harness designed to enable me to transport and use all the equipment necessary.
The content of the projections can be linked to the history of the place, to recent events related to it and/or local reflections of popular interest. Involving passersby is part of both the action and the art piece through a 'closed circuit' system (recording of the video, manipulation, editing and projection in real time).
These video-interventions and their recording create new materials that, in their turn, become into the raw material that starts to process, exhibit and broadcast online in order to give way to a shared reflection with people who may or may not be related to the art world.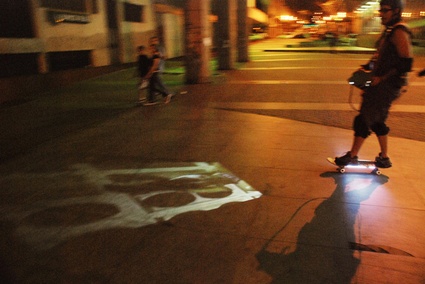 I called Videoman's video interventions "urban acupuncture" because i thought it was a good metaphor of the way they work in the city. They are short, sometimes they are disturbing and are a bit incisive. I believe that in some way they can help to make public space a "healthier" place through a brief catharsis. This "cure" can be a very subjective apreciación but it seems to me that it can be applied to anyone who works in public space and believe that they can contaminate the public with something of their proposal.
The term was inspired by one of Guillermo Gómez-Peña's performances, the Mad-mex. We met in the Bienal de Mercosul in 2005, when i was presenting the first version of Videoman, he was 'de-colonizing' the body of a woman who was holding the flags of the countries that invaded with acupuncture needles. That's where i first thought of calling my interventions that way.
Let's remember that the original and full name of the project is:
[ vi video ]
Mobile video-intervention in specific urban contexts.
Later on, however, the project was more closely related to the terms Videoman and urban acupuncture.
Obviously i believe that cities need this sort of urban acupuncture. Graffiti, sticker guerrilla, radio pirate, etc. Each of these manifestations that co-exist in a city and that take place without asking for the permission of the authorities are, in my view, necessary to the development of a healthy cultural life. If one only relies on the established channels and spaces, where and how can new discourses be inserted that are likely to refresh the existing ones? I believe that our megalopolis needs some kind of participative cure. How can we appropriate spaces and make them ours if everything is left in the hands of the government or of corporate advertising? As i explained in one of my talks, i believe in the sentence of Mexican revolutionary Emiliano Zapata: "The Land Belongs to Those Who Work It". That's how public space should be understood, at least as far as people who dedicate their life to art and interested in sharing it with new audiences are concerned.
One takes some actions, even if they scandalize or make people feel uncomfortable, that's a sign that something is happening and it is better than to resign yourself to the indifference or the polite silence of the public who visit museums. I think that the punk voice, the voice of denunciation, of the DIY spirit can help understand the nature of that acupuncture.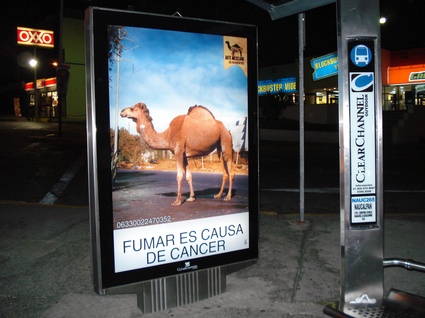 Our cities are overwhelmed with visual stimuli: billboards, neon signs, information boards, etc. How do you compete with that and get passersby attention during your video performances?
The starting point is not to regard them as competition, artists use other elements such as physicality or movement to attract the attention. Sometimes even the outfit or the means of transport can be used to leave an indentation in the memory.
We can not discuss in terms of competition because the advertising world always has had much higher budgets. One has to be able to turn things upside down. Unlike publicity, Videoman's video projections are site-specific, they tie in better with their context and exploit scandal better. A publicity is most often visible in many places and they will eventually be replaced by others. The projections i make attempt to attache themselves and explode within a very concrete space.
Besides, as far as attracting the attention is concerned, i have an advantage. I can be politically incorrect and show things that publicity can't show. For example, i can project pornography in the street or a kiss on the prostitutes working in the red district of a city, or the planes that miss their landing in the airport. This is a discursive luxury, not anyone can use it, you have to be cynical and have guts to do something like that. You have to embrace the challenge and very often even risk your body in order to create an action so deeply poetical that it will remain in people's meme, turn into a myth and almost become word of mouth.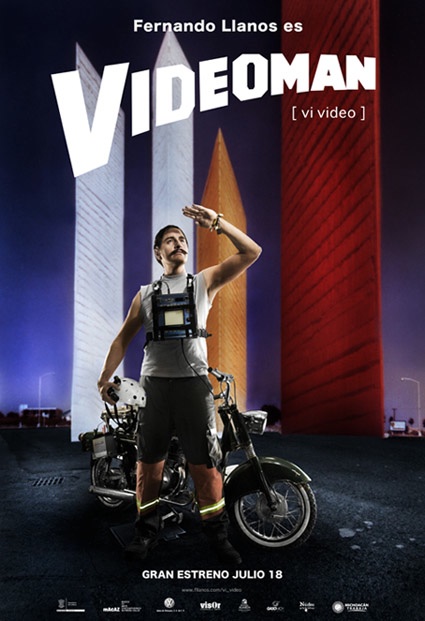 The most fascinating characteristic of Videoman for me is all the mythology you build around it: the figurines, bicycle, posters that end up in movie theater, etc. Is this part of a larger strategy?
Exploring this mythification of the character has been extremely fun and constructive, i was able to broaden the imagery of Videoman's field of action. The project is in fact based on highlighting ideas, it's not as if i'd spend my life projecting images. I do the projections and then document them (both on line and off line) and that's what gives a sense to the whole research behind the project, but i've enjoyed very much the possibility to lucubrate and expand myself further in the mythification of a super-hero.
Besides, working along these principles has enabled me to copy marketing strategies that help superheroes maintain their image.
In reality, as i said in the talk, i always wanted to be a superhero. When i was a kid i used to collect the comics of Superman, Batman and Spiderman, my first drawings represented this kind of warriors, a mix between super-heroes, Mad Max and the luchadores. When i was 9, i was selling at school the reproductions of drawings i was making of He-Man and the Transformers. If you analyze Videoman, you will see that he was be as basic as Batman, he's a guy with tools, discipline and a lot of guts.
Therefore i already had the fascination for these stories, those media, those objects when i was just a kid. Expanding the project using objects that respond to this sort of marketing strategy has enabled me to broaden the spectrum of fascination and empathy that the character can generate.
I think that's the reason why people associate the project more with the word VIDEOMAN than with its original name, it is easier to associate the whole project with the images of the character in action than with the interventions themselves.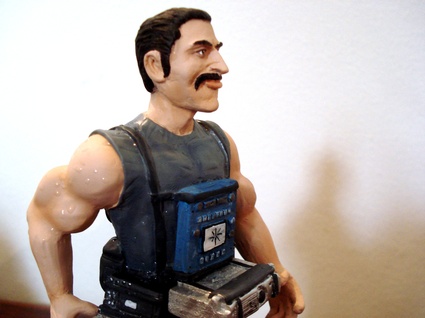 Or are these declinations of your persona just ideas you get 'on the spur of the moment'? My favourite were the moustache and the figurine episodes. Would you mind elaborating on those two?
As i explained you in the previous question, when i started working on this project, i was convinced that the most important element was the projection of the video in the street, but i gradually realized that the character of VIDEOMAN was taking the lead role, that many of his intentions could be summed up in his harnesses and his equipment, that's how i started thinking i should give way to the desire i had always had to be a superhero. It was very simple, as a kid, i used to read many comics and i always aspired to be a superhero. As time passed i realized that in the art world one can invent whatever they want and as one generate their own bubble and enjoys staying inside it, why shouldn't i create my own superhero?
But that was a slow and gradual process. The first version just coined the name VIDEOMAN, and it fits the postcard quite well. After that i started working more on the idea of a garment and attire that would befit a superhero, borrowing from the strategies of the superheroes i found most interesting: the poster, the figurines, a comic to explain the project, etc. I would like to keep on following along those lines. I'd like to shoot a trailer in 35 mm of a film that doesn't exist and keep on building fiction around the character.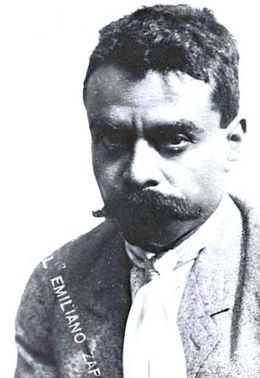 In the beginning, the moustache was a tribute to Felipe Ehrenberg, the first conceptual artist in México, i was curating his 50 year retrospective for the Museum of Modern Art in Mexico City and it seemed to me that after 3 years of work, it was high time to come up with an action that would draw attention to the complicity we had together. His moustache is a key characteristic of his personality. I kept it and shaved it only the day after the inauguration.
One day i read that his moustache was a tribute to Emiliano Zapata, then somehow I also felt it had some similarities with the character of Videoman. I therefore decided that for some versions, the character would wear this kind of revolutionary emblem, as the majority of Zapatistas wore moustaches and fought in guerrilla.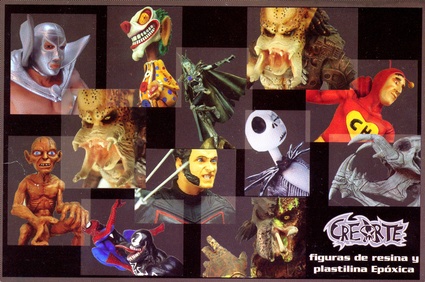 The figurines of Videoman that we issed were commissioned to someone whose sole occupation is to make superheroes. He sells them at the exit of Metro stations or on the main square, he has Superman, Batman, but also some Mexican superheroes such as El Santo, Chapulin Colorado, etc. I asked the sculptor to adapt in figurine the pictures in which i appear as Videoman, i loved the way he enlarged my features and misinterpreted concepts. I think that there is some beauty in the way knowledge or concepts can be adulterated. A + B does not always equal C, it can be Ab or aB. I like to see the subtle conceptions that an unofficial expert of heroes can have being reflected in an object that reminds me of the cult we raise to those characters. The ones of Starwars, the Marvel or the Manga. People do not collect figures of saints anymore, nowadays they almost pray to these new icons.
You collaborate also with commercial brands. Can you give us a couple of examples and explain the kind of limit(s) you impose on those collaborations? When do you accept a purely commercial commission and what makes you reject another one?
I do a lot of commercial works, i call them creative exercises, they help me stay in shape. Making a DVD for a client like ABSOLUT requires a rigor and technical ability that i might not look for otherwise. Creating a tv programme that both the producer and the channel will like is a big challenge, because in the art world, people tend to answer only to themselves, no matter how good or bad that can be. I think that making exercises that start with limits is always healthy from a creativity point of view, and the world of advertising is full of those limits, themes and contents.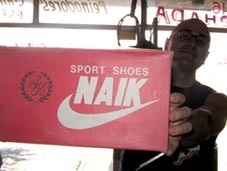 I have a video production company that allows me to undertake any type of commercial work, designing web pages, shooting video clips or making of for movies. I don't put the Fernando Llanos firm under these works. I don't want to associate any brand or commercial project with my name nor with my artistic projects. Nike wanted to hire me to use Videoman as part of a strategy of guerrilla advertising. I obviously declined. I don't think these things and worlds should mix up. Instead, i sold them a videoclip and everyone was happy.
Of course the main reason why i accept these work is the budget they give me access to. It feels like going to school and being paid huge amounts of money so that i can learn and train. Making this kind of concessions allows me to increase the competence and freedom i have for my own artistic projects. Working one week on a commercial project enables me to live well during 3 months while working full time on my projects as an artist or cultural producer. The most important thing is that you never lose sight of your priorities, that you are aware that your production as an artist is above everything else.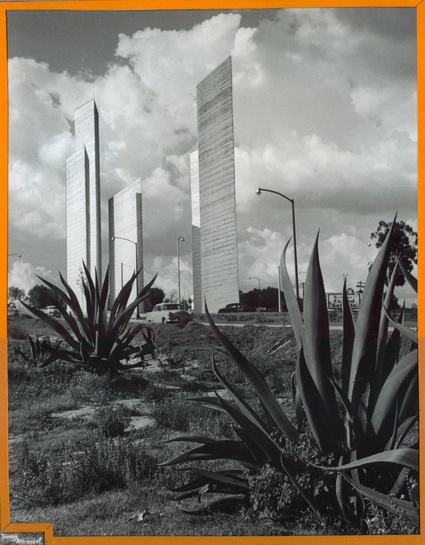 You are preparing a book on Ciudad Satélite. Can you tell us what the book will be like? How you came to be interested in this suburban area?
Satélite, the book (Historias suburbanas de la Ciudad de México – Suburban stories of Mexico City) is a publishing projects that touches upon themes of architectural, artistic and scientific popularization. Its aim is to investigate the destiny of an emblematic suburb for the middle class, a pioneer at its origins but which grew more conservative over time. It seeks to crystallize the history and memory of its people, places, idiosyncrasies and identity. This is illustrated with the collaboration of artists who live in that area.
The publishing projects hopes to contribute to the awareness of an urban phenomenon, the middle class suburb, created as a progressive and modern challenge by one of México's most famous architects. It did however evolved into a serial and uniform city, based on maximizing the rent and on a conservative social project with a dose of political innovation.
It aims to enrich the visual, architectonic and cultural landmark that is the Ciudad Satélite for Mexico City. Ciudad Satélite, almost 50 years after its construction, features a peculiar wealth that has been scarcely identified and valued: its architectural legacy and its complex urban planing, the iconography of the so-called "spatial era" that lead to its foundation, its aesthetic that blends modernism and consumer kitsch.
The idea is to crystallize the memory of the area, through the story and history of the life of its inhabitants, but also the advertisements that promoted the communities at the end of the '50s, as well as the narratives of "external observers" of this new suburban culture. All of that will undoubtedly contribute to the promotion to the enrichment of local cultures.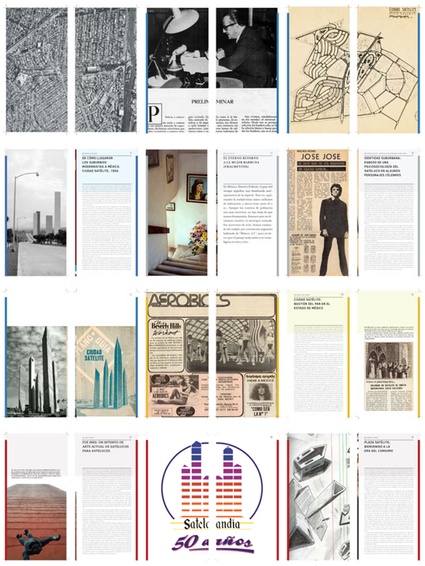 Eight years ago i decided to propose the realization of an experimental documentary about the Satellite City, as a thesis project, in order to graduate from the Centro Nacional de las Artes in Fine Arts. My interest for the theme was at first to get to know my roots and reconcile myself with my origin. But i was also fascinated by the fact that in a city of something like 20 million inhabitants, one of the biggest on the planet, there is a specific way of being that can be identified, mythified inside and by Mexico City. It is something that, in my view, reveals a cultural contribution that many Chilangos are not ready to acknowledge yet.
I was born in D.F., but from zero to 10 year old i was living in Valle Dorado, a satellite city of Satélite. I grew up, as some say, inside the aegis of the satellite culture. Before i started investigating the issue, satellite was for me a symbol of the promises of development that were never realized (the beginning of the famous post-modernity), exquisite ambassadors of the kitsch and the suburban aesthetics, the part of Mexico City that most aspired to be yankee and the characters with their provincial aura who go through the capital as satellites.
I had a series of abstract beliefs that did not really fit into the picture, the only thing i knew for sure was that inhabitants of Satellite city were among the few easily recognizable people in this big city: the way they dress, talk, even their hair was peculiar, different and identifiable, just like people from Tepito or Coyoacán (other neighbourhoods with a strong personality in DF.) A 'being' distant from the omnivore and homogeneous fauna of Mexico City.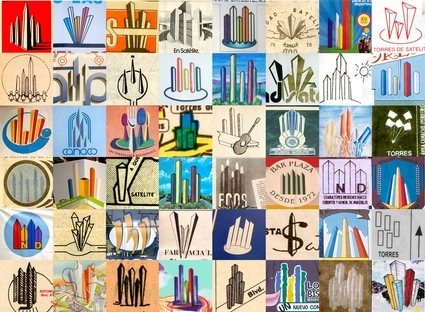 In order to realize the documentary i mentioned i worked on a little book i called "satellite logbook". It's a booklet where i wrote down the information i was gathering: cuttings, drawings, statistics, drafts, ideas that would help me unfold the mysteries of Satellite City. A mere depository of information without any form nor pretense.
I interviewed some personalities living in the region. I managed to get fragments of documentaries and tv programs in which Satellite City appeared. I read in the Hemeroteca Nacional all the Ecos de Satélite (Satellite's Echo), the mythical newspaper of the area. The investigation grew so much that i never shot that video and graduated with another project.
Four years later the start of the investigation i met Uriel Waizel and we founded Satelín Torres, a project of urban renovation using the enhancement of local culture, a space within which unravel and promote everything about Satellite, an initiative which, in some way and 8 years later, has triggered this editorial project.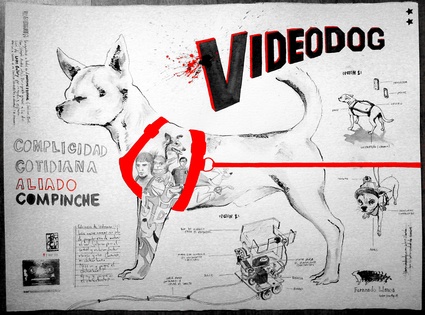 I must admit that what i admire the most among your artworks are the drawings. Can you select 3 of them and comment briefly each of them?
Thank you Régine, i'm happy that you like the drawings. I've been drawing as far as i can remember and i love to "think with the hands", as Ehrenberg called the act of drawing. Even if i've always drawn, it's only recently (and thanks to the publication of Cursiagridulce) that i've been invited to do exhibitions of drawings and not only of my work on video or online.
I'm going to comment three drawings from two different projects. The first one is a drawing about Videoman, it's called "Mapa mental" (Mental Map), the second and third one are from my book Cursiagridulce, one is called "Corazón" and the last one "Software included".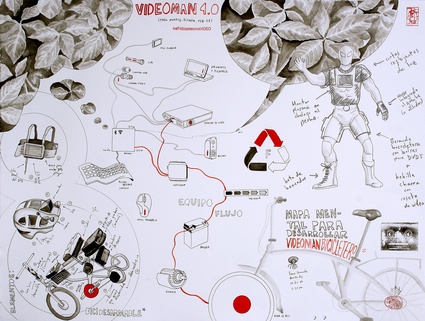 Mapa mental
The first one, Mapa mental, is a drawing that helps me explain what comes into play in the version 4.0. of Videoman, the one i presented at Madrid Abierto. Drawings help me in my projects because i like fluid sketches and diagrams, they help me see all the information in just one look and help me give space to the complexity of the idea to be developed. In this specific case it helps me communicate with the rest of the team with whom i developed the harness. The engineer and the stylist rely on this drawing, it explains the concepts and the functions it should embody and from there they can make a proposal to me.
This drawing has three parts: the central one shows the breakdown of the equipment and the way it connects to its electrical electrical autonomy or dependence. On the left side, at the bottom, there is a proposal about how the system, in particular all the devices, can fit into the bicycle. On the right side are notes related to the outfit over a lucha libre doll.
This version in Videoman is particularly ecological, the electricity is generated by a dynamo activated when i pedal which, in turn, charges the battery. For this and with the intention of engaging further the public, a microphone enables people to talk and an open Bluetooth network enable the sharing of videos, speech and thoughts bubble appear just like in comics.
This is a large format drawing, the first drafts of the project were small but because the booklet had to move to the exhibition space, i decided to give more graphical formality (technically they are more sophisticated than a draft made with more spontaneity) and a larger dimension. In this way, the drawing kept its function, but it looks much better.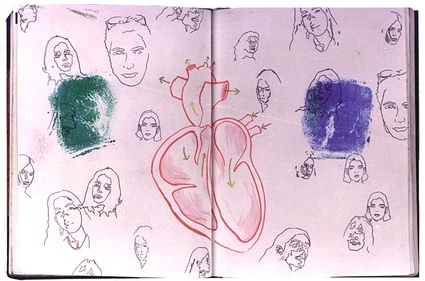 Corazón
The drawing "Corazón" (Heart) is one of the oldest of Cursiagridulce, i made it while i was still at college. I decided that during one year i would stop to use big framed formats, and that i would focus on developing ideas that would work on the format of a book or notebook. It was the beginning of the 13 booklets i made over the course of 7 years and from which the book Cursiagridulce was born.
The blue and green marks are the impression of my nipples. Therefore the representation of the heart aims to be more or less at the 1:1 level. That would be the real size of my heart and above my breast-notebook float the women whom, until that day, i had loved the most. These are very synthetical drawings that where lights are contrasting on their faces and profiles.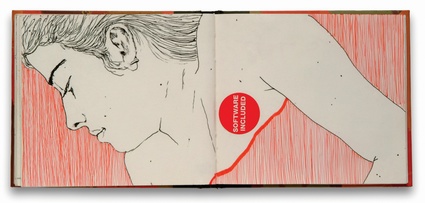 Software included
Finally "Software included" is a drawing in which Ana Lucía is seen sleeping, she is the woman i have loved the most in my life, i was in love with her for 9 years, in a series of ups and downs i kidnapped her in France (where she was living with her boyfriend) and brought her to Barcelona to spend Christmas with me and then New Year's Eve in París, it was in 2001. The drawing represents a moment when she is sleeping and i feel deeply in love. I could not stop looking at her, i could spend hours watching her. I think that my way of misunderstanding love, the act of never being tired of contemplating is a ritual goes further than the intellect and it brings us up to the most basic of the world of encounters. The divine perception, in the communion with the other, and the unexplainable surprise they arise in us, a suspended sigh.
Because the theme of love and sex is a constant in my work, Ana Lucía appears in probably 70% of my works, not only in the Cursiagridulce drawings, but also in the videos of Videomails and Videoviajes. I should add that i immediately apply ink, without ever making any draft with a pencil. What is in the process of being built exists. That's why i like it, it's like video, raw, without rehearsal. Life doesn't allow a second take.
Your project Videoman has toured the world, not only because you were invited to show your work in many prestigious museums and cultural venues around the world but also because Videoman has inspired other works. Could you tell us something about the projects that owe so much to Videoman? Do not omit the naked version of your performances, please, please!
I like to share. The reason for that is very simple: i feel like i'm the result of other people who have shared with me. While growing up, i believe i acquired moral debts to other personalities and i'll probably never repay them enough. When i made the Videomails in 2000 several artists copied the model and referred to me in their websites.
With the Videoman project several artists did indeed ask for our advice, others just copied the model, not only the model of the device but also the structure deployed when selecting some spaces (as in the case of the Spanish naked "Videoman", see the newspaper cover below). We uploaded online right from the start all the information about the way to prepare the harness and how it works. Several people suggested i should patent or copyright it, but i always thought that the best thing that could happen would be that other people would copy and improve the model. After all, what matters isn't mostly the technological novelty but rather to be able to make the most of technological goodies that are already there. My contribution or stamp had more to do with the situations and contents generated than with the equipment only.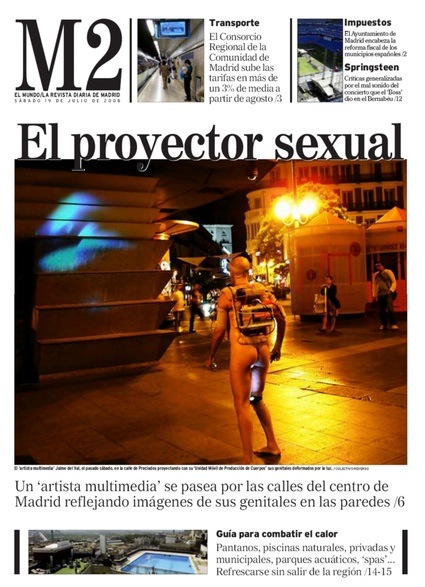 Mexico city is North America's oldest city. Nowadays, foreigners like me associate it with lucha libre, pulquerías, the Metropolitan Cathedral, traffic jams, etc. But why should we put the city on the new media art map? Can you name us a couple of events, galleries, institutions that support media art?
DF has a very vibrant life in terms of creation just like in any other megalópolis on the planet. The reality is that we have to fight for every square centimeter with the effect that the production has maintained a remarkable vitality. I'd say that as far as media art is concerned, we have key actors who keep on raising interests well beyond our frontiers. Arcangel Constantini has just been awarded the support of VIDA, Gilberto Esparza obtained it last year. Rafael Lozano-Hemmer and Manuel de Landa are other examples of key figures in new media, they are Mexican but have spread their wings in other countries.
There are spaces such as Laboratorio Arte Alameda that weaves wonderful links with other latitudes (for example the Video Game exhibition that Laura Baigorri curated for Laboral), and it acts as a space to get to know the local scene.
The Festival TRANSITIO is the strongest event of art and technology that we have and it seems to me that it is growing and improving with each editiion, let's see what they will propose us in 2010.
But most of all what i would like to highlight is that in general the technological discourse of the peripheries seems to be more critical and intertwined with real necessities of protest or almost survival, because one starts with lack, rather than with the excess. To give you an examples, Arcangel Constantini's famous Atari-noise which won the Festival Interference in France in 2001.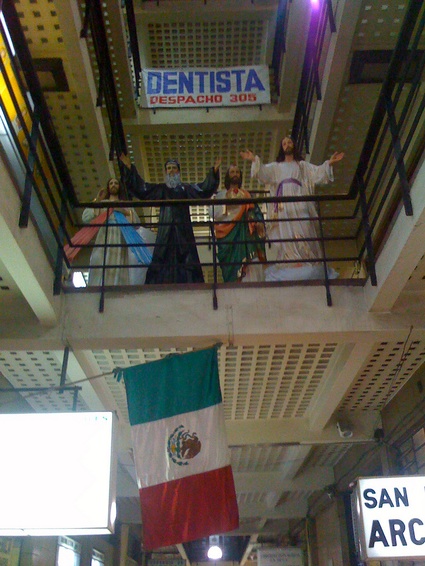 And more importantly can you think of other artists (using technology or not) from Mexico that i should add to my 'interview candidates' list?
Arcangel Constantini. Our most famous net artist.
Hector Falcón. Excellent multidisciplinary artist who works mostly with his body.
Rogelio Sosa. Great sound artist who likes noise.
Ivan Abreu. Cubano-Mexican artist who works fantastically with data and cables.
Rafael Lozano-Hemmer. You already know him, maybe you've even interviewed him. You can't go wrong with him :-P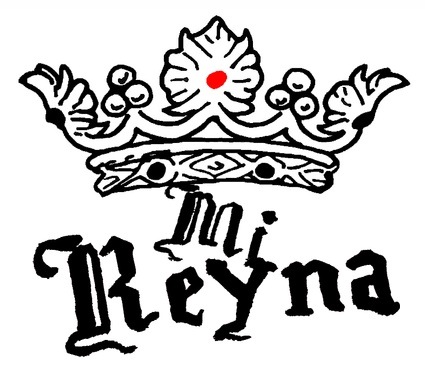 Any upcoming project you could share with us?
Yes, this year i'd like to make a record with my band, mi:reyna. We've been rehearsing for a year and we want to start playing live. It's a challenge because i can't play the guitar and i'm learning how to while we are getting ready and rehearsing the songs. I want to believe that i can build something interesting and nice from my limits. I'd like to end this interview with that because i believe that this profession is full of freedoms and it's both fun and healthy to enjoy them. That's how i jumped from being a painter to being a video artist, that's how i started a book but ended up publishing 3 (two others are scheduled to be published.) I started doing video because it was the medium that joined image and sound and i want to see how far i can go with music. It's going to be one of my creative priorities in 2009.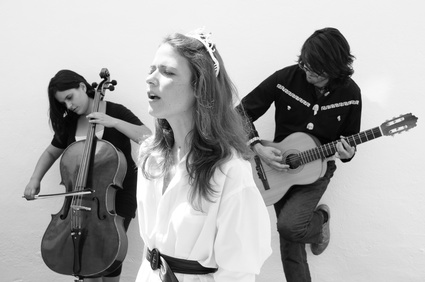 Mi Reyna. Photo credit: Atonatiuh Bracho
Thanks Fernando!
Portrait on the home page stolen from Lucas Bambozzi's place.