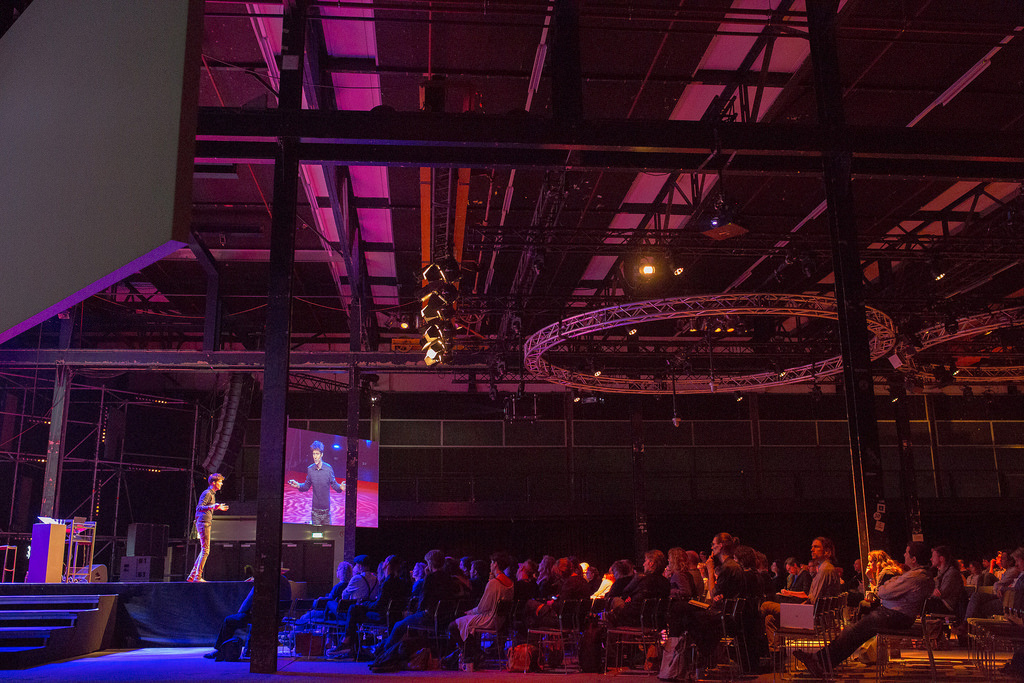 Conference for the Curious. Photo © Blickfänger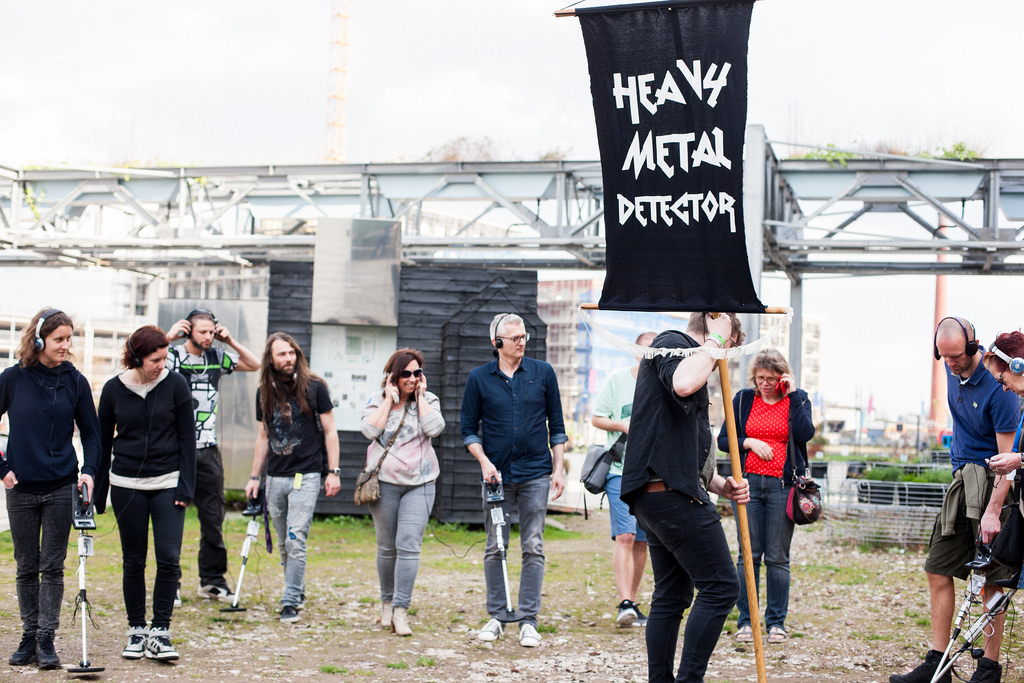 Steve Maher, Heavy Metal Detector. Photo: © Boudewijn Bollmann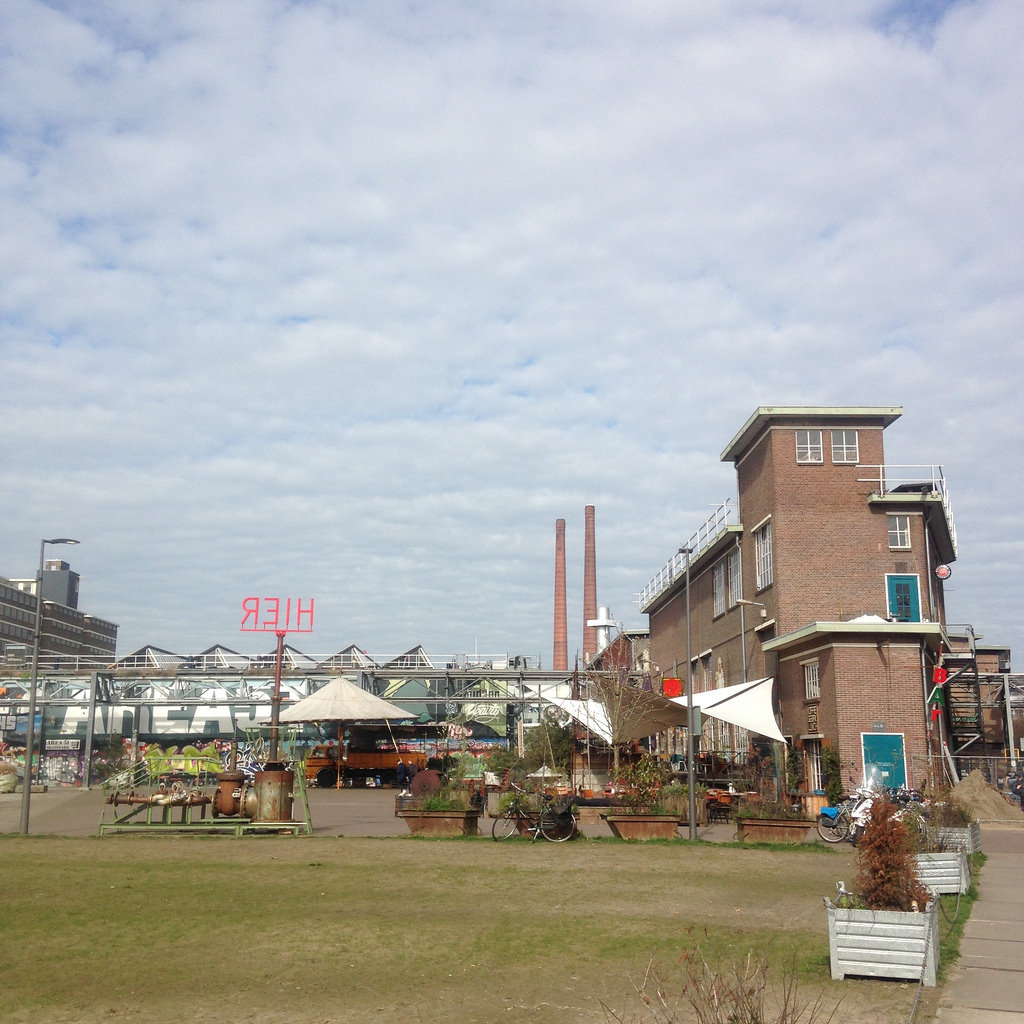 Outside the historic Philips Klokgebouw where the biennale unfolds
A few weeks ago, i visited STRP Biënnale, the mega festival of art, technology and music in Eindhoven. The theme of the event this year was Senses & Sensors. Both the huge exhibition and the two-day event of talks and discussions called Conference for the Curious explored perception in all its guises and meanings. Some of the questions raised during the festival included: How can technologies hinder or expand our senses? Can the same technologies enable us to develop new senses? What role do technological sensors play in our perception of the world? But also, and perhaps more interestingly, how can we make more sense of technology?
As usual, there was a lot to take in, discover and ponder about at STRP. I'm just going to highlight the most interesting ideas and works i discovered while i was there:
1. We will soon miss the computer accent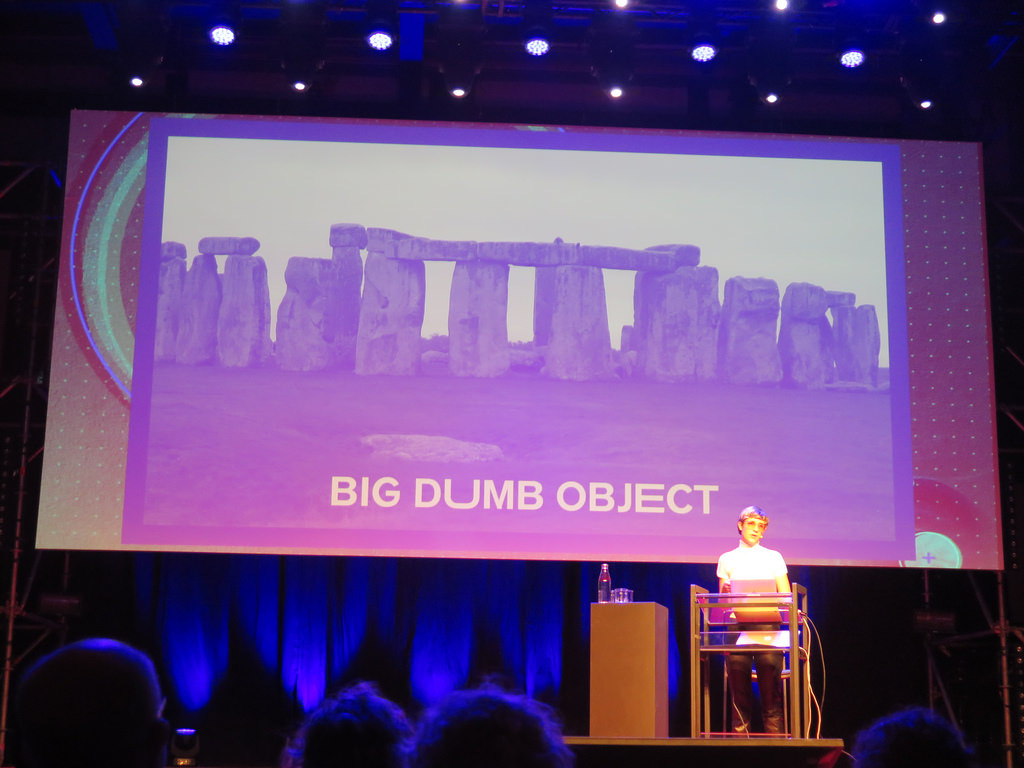 popstar Claire L.Evans, The Sound of Post-human Music at STRP conference
Writer and popstar Claire L.Evans opened the conference with The Sound of Post-human Music, a talk which focused on the role that artificial intelligence will soon play in the composition—and appreciation—of music and art. She believes that "artificial intelligence could be like the electric guitar for future musicians."
The talk was full of witty comments and nods to science fiction. The most memorable moment for me was when Evans talked about the computer accent. We see it as a failure, a flaw, but soon we won't be able to distinguish it anymore from human speech and we will miss it (check out this story recently published: Chatbots Have Entered the Uncanny Valley.) And do we really need to use only humans as a benchmark for success anyway? Evans doubts it. Besides, she believes that A.I.'s own sense of beauty will eventually surprise us.
There's more details in the feature she wrote for Motherboard: The Sound of (Posthuman) Music.
2. Dries Depoorter has one genius idea every hour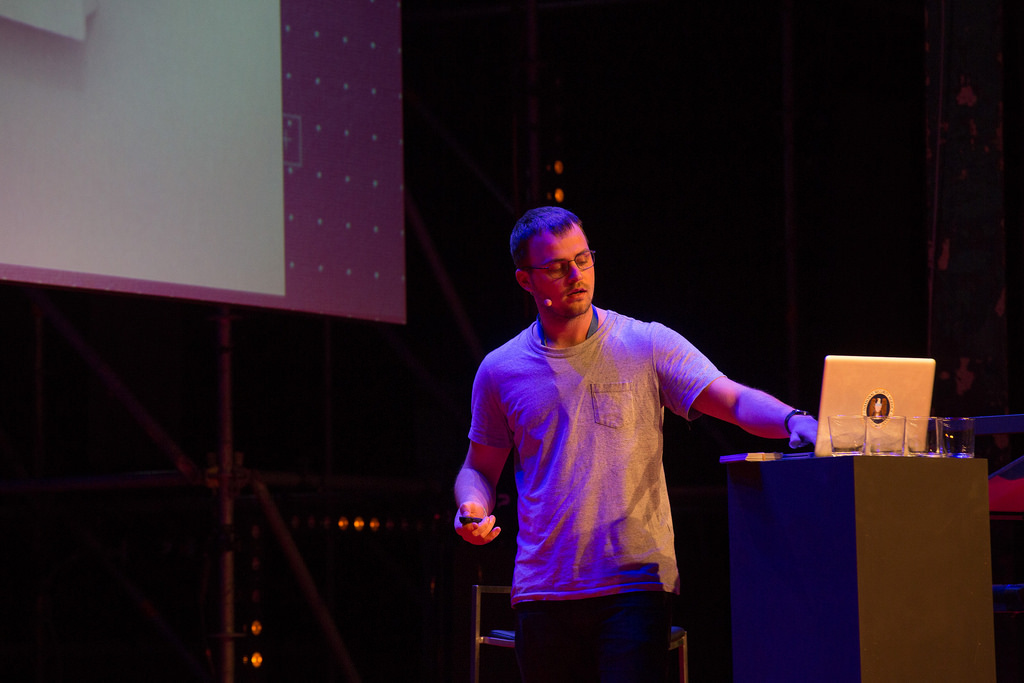 Dries Depoorter at STRP conference. Photo: © Blickfänger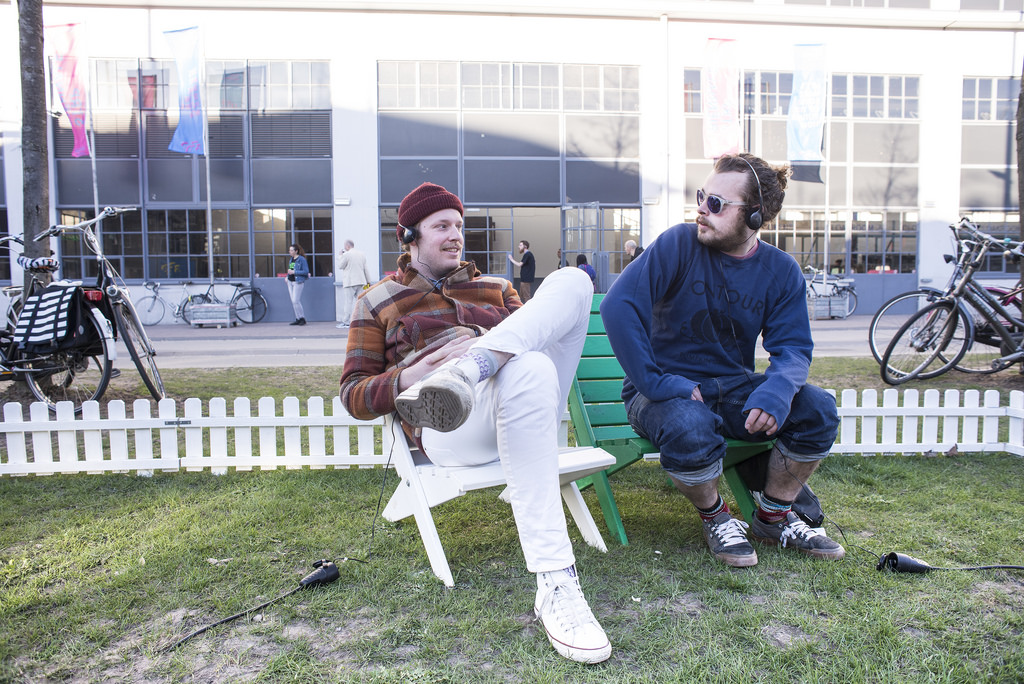 Dries Depoorter, Flipside Audio , exhibition view at STRP. Photo: © Roos Pierson
Some of them he actually turns into artworks.
He gave a really fun talk at Conference for the Curious. It took the form of a brief overview of his portfolio. That's when i learnt that his work Tinder In had been shamelessly copied by a famous multinational electronics company. They used his idea in an advertisement campaign, got a 10,000 dollar prize for it and obviously never credited the artist for the original idea. He sent them an invoice of 10,000 dollars. They didn't find it amusing.
Depoorter is now working on a couple of new projects. One of them is a dating website where you do not have to fill in any formulaire. The system will find your 'perfect' match according to your browsing internet history.
The artist was showing a new work on the turf outside the Philips Klokgebouw. Flipside Audio allows visitors to connect a headset directly into the grass and listen in real time to the other side of the world, 13,000 kilometers below you.
3. Segregation, tolerance and other social issues have their own smell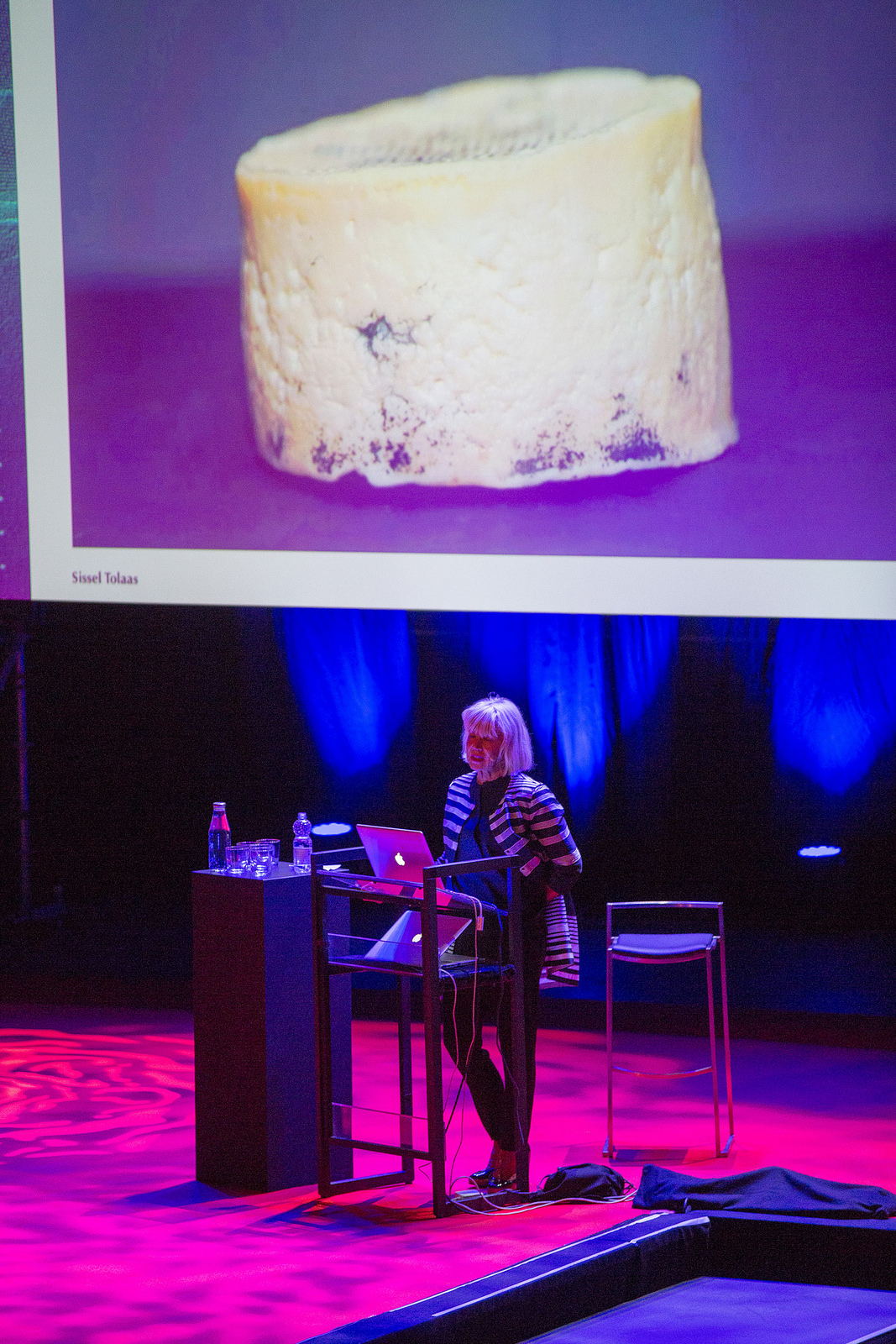 Sissel Tolaas at STRP conference. Photo: © Blickfänger
Artist and smell expert Sissel Tolaas told us how our world has been cleaned up, sanitized and perfumed to the point that we ignore precious information about what surrounds us. A few years ago, she decided that she wanted to record her own life through the smells she encountered. She has since been collecting, recording, putting inside little cans and labeling the smells she wishes to remember.
One of her projects consists in mapping the smells found in various cities around the world. She takes inhabitants on smell walks and invites them to explore the 'smellscapes' of neighbourhoods where they might otherwise never go. As a result, the participants start to develop a new, more open understanding of the people who live there. Tolaas believes that smells can tell you a lot about income differences, respect for the environment, level of social engagement, etc.
Her work has so much meaning and power that the US military approached her after having heard of her project FEAR 01/21. For this work, she synthesised the smell of fear from 21 sufferers of panic attacks. The U.S. army thought that her project would be the starting point for the development of new methodologies that would enable them to "smell a terrorist and other totally naïve notions." She turned down the offer.
4. Speaking of smells… data leaks should be given smells, just like dangerous gases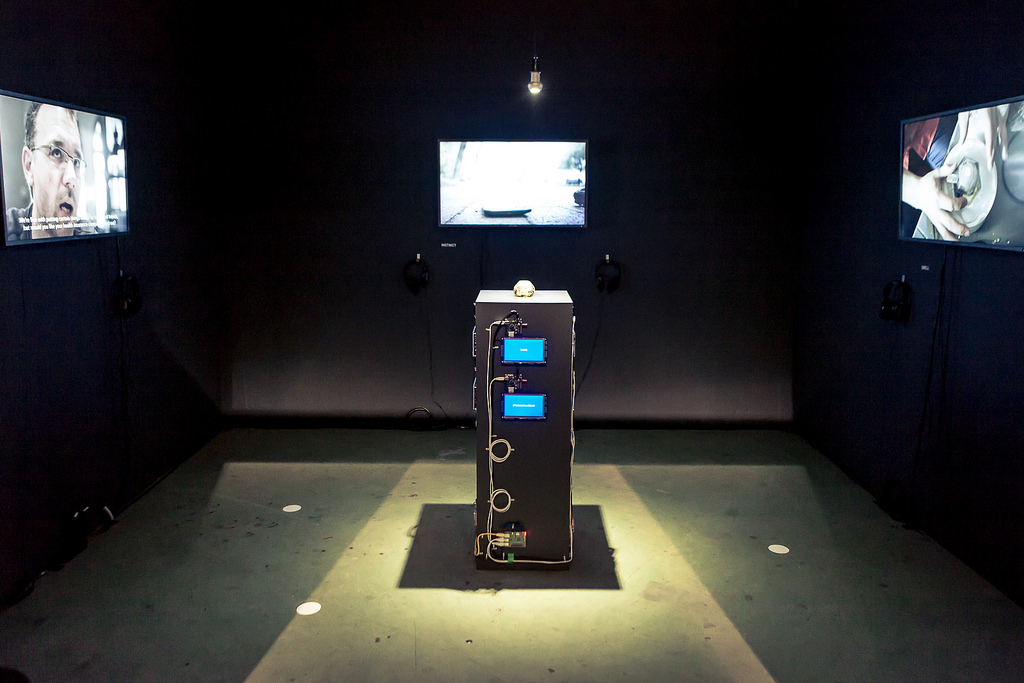 Leanne Wijnsma, The smell of data, exhibition view at STRP. Photo: © Willy Kerkhof

Leanne Wijnsma, The smell of data. Photo: © Ruud Balk
Leanne Wijnsma, The smell of data
Contemporary society under-appreciates what human sense of smell can do for us. It helped our ancestors survive, just like it helps other animals navigate the environment and detect incoming danger. Designer Leanne Wijnsma's research project The smell of data looks at how a simple device we'd leave next to our computer could emit scent and vapour and warn us of any leak or other threat to data security on the internet.
Wijnsma was one of the winners of the new STRP – Creative Technology Award (ACT) which supports creative thinkers and makers with vision and imagination.
5. Mug is the new tote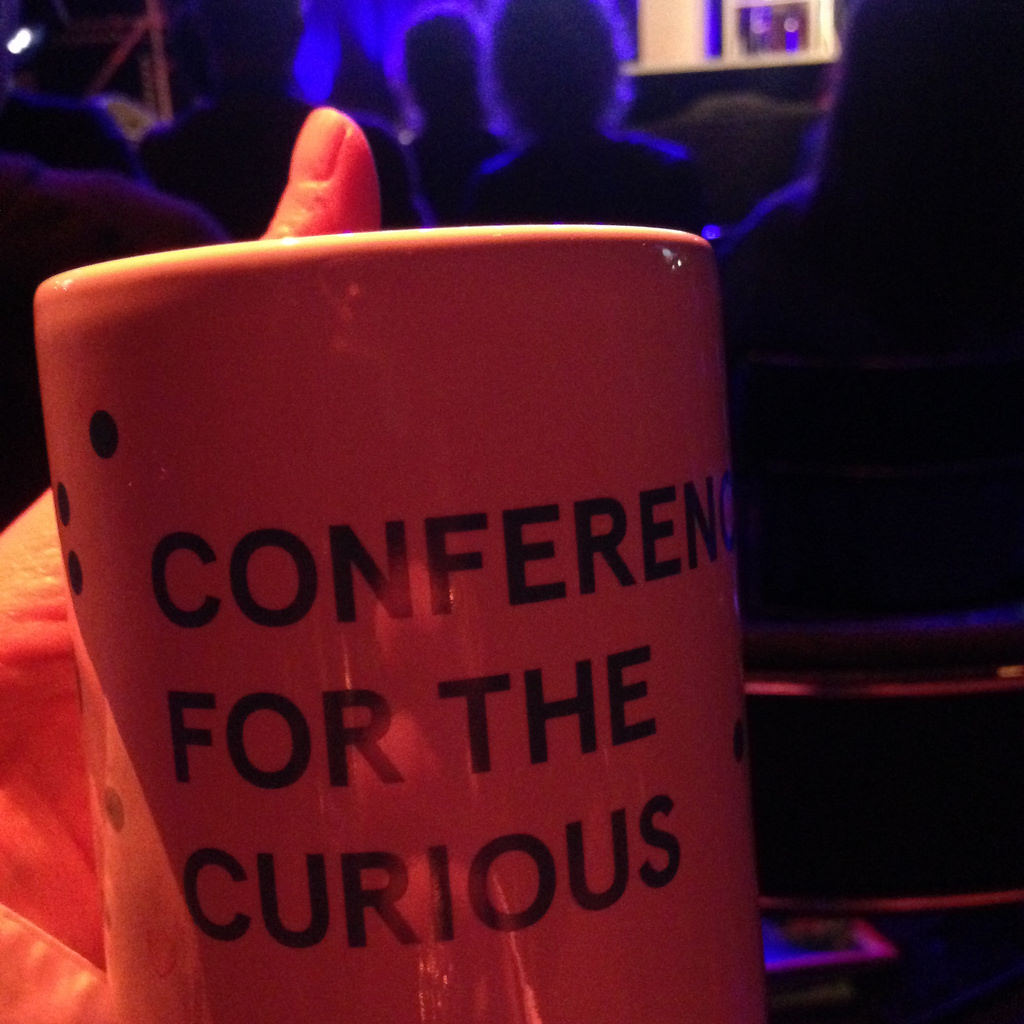 My very own Conference for the Curious mug
We got to keep the mug we were using during the STRP conference coffee pauses. Brilliant idea! First, because we refilled our mugs instead of going through several paper or plastic cups during the day. Second, because who needs another festival tote? Please conference/festivals, take note and steal the idea!
6. Sometimes the opening act is more exciting than the 'headliner'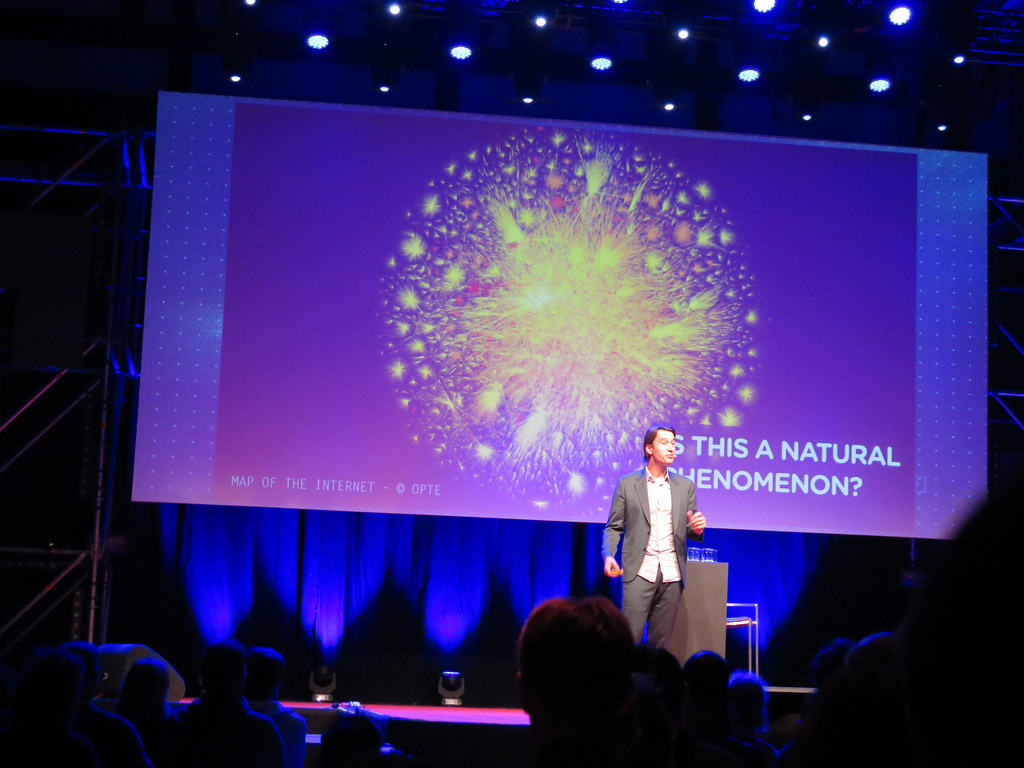 Koert van Mensvoort at Conference for the Curious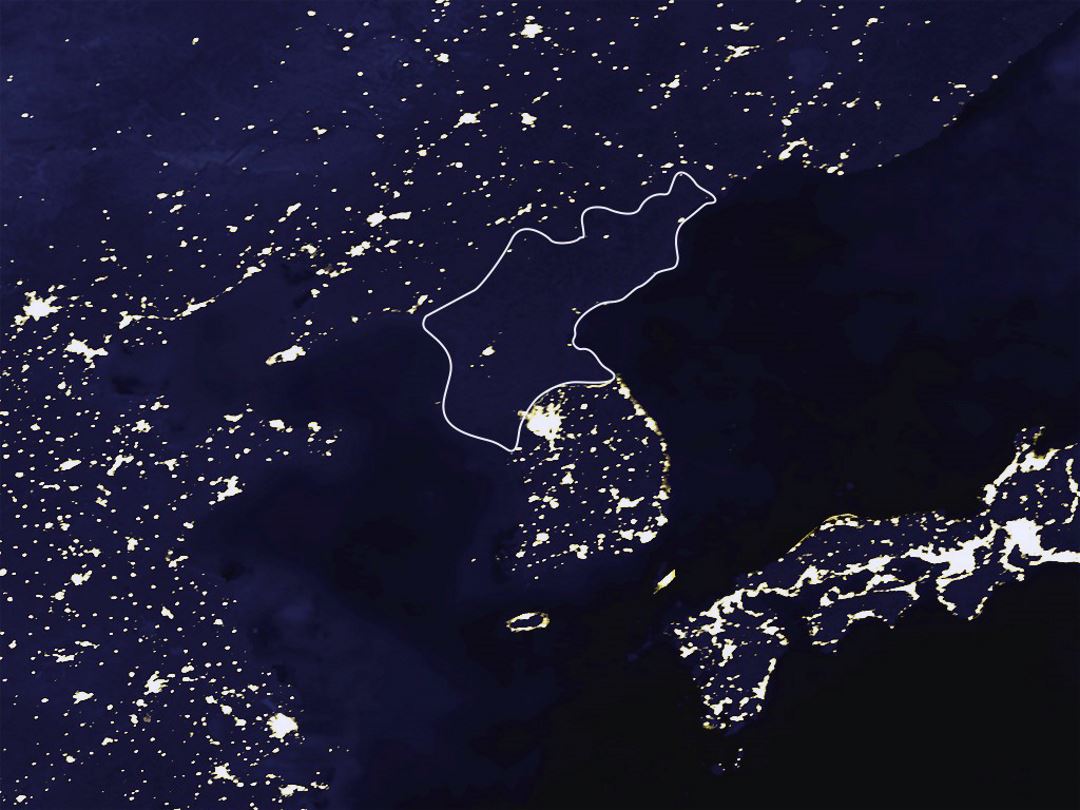 Satellite map of North Korea at night
Koert van Mensvoort from Next Nature introduced keynote speaker Kevin Kelly and managed to say more interesting things in 10 minutes than the American tech guru in one hour. Kelly is a true visionary, i share his admiration for the lettuce bot and i'm sure his book The Inevitable is great but i don't buy his 'tech is fab and AI will make the world a better place' promises. Maybe this is going to be true for the Silicon Valley clique but I don't think everyone will benefit equally from a future in which we (or at least some of us) will cheerfully work in unison with machines.
Back to van Mensvoort. He showed us the earth by night as captured by satellites. It turns out that even from that distance, we can guess the political choices of various countries. Demonstration above, in the satellite map of North Korea at night.
7. Some media artworks are way too thrilling for me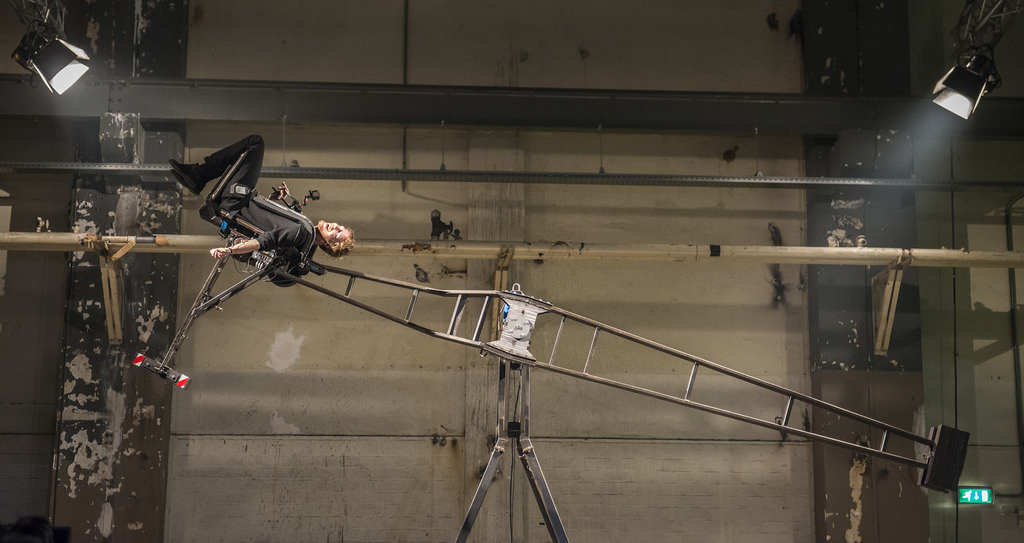 Daniel de Bruin, Neurotransmitter 3000, exhibition view at STRP. Photo: © Ruud Balk
Daniel de Bruin, Neurotransmitter 3000
Daniel de Bruin's Neurotransmitter 3000 is a kind of rollercoaster thrill ride. The machine is controlled by his own biometric data. Heart rate, body temperature, muscle tension and other bodily data are measured and translated to variations in motion. And vice-versa. That's what true interaction should be like!
The work's great and i'm a wuss, there's no way i'll ever sit on that contraption.
8. My heart beat is really really slow though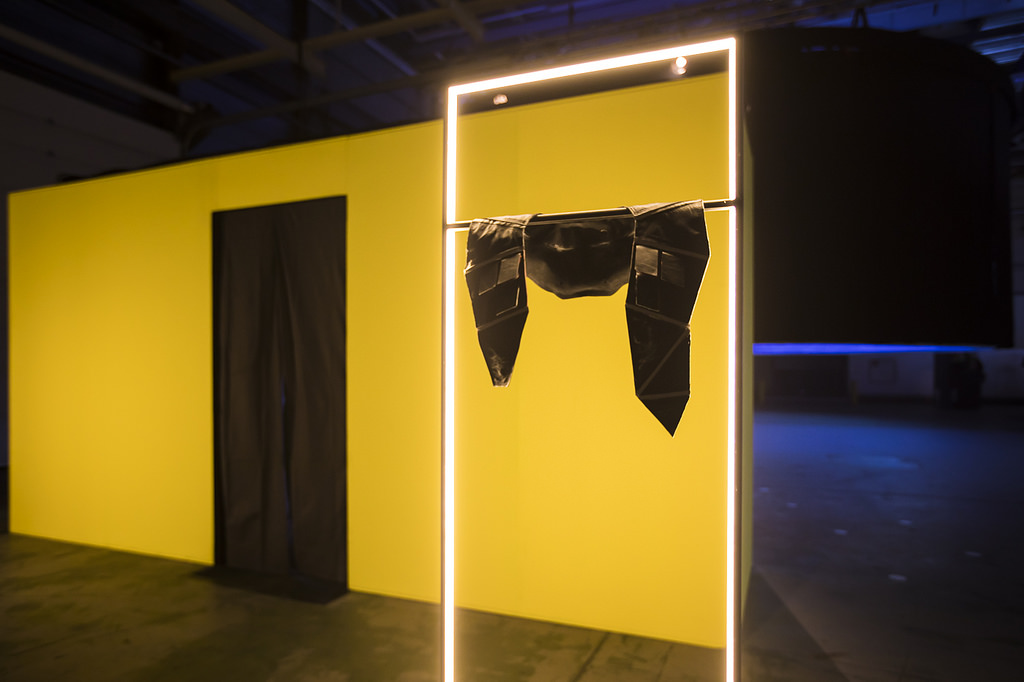 Chris Salter, TeZ and Luis Rodil Fernández, Other/Self, exhibition view at STRP. Photo: © Hanneke Wetzer
At least according to Other/Self, an immersive sound, light and haptic experience in which two visitors gradually get to feel the heartbeat of the other person. It's an incredibly intimate and disconcerting experience. I experienced the work in the company of the guide who was explaining Other/Self to visitors. She had tried the installation with several visitors before me but was surprised at how slowly my heart was beating. I don't know whether this is good or bad. I probably need to investigate.
The work is part of Hack the Body, an innovation program that explores the blurry boundaries between intimacy, privacy and technology. More of that, please!
Other moments and works i enjoyed:

Tobias Revell, The Finite State Fantasia, exhibition view at STRP. Photo: © Blickfänger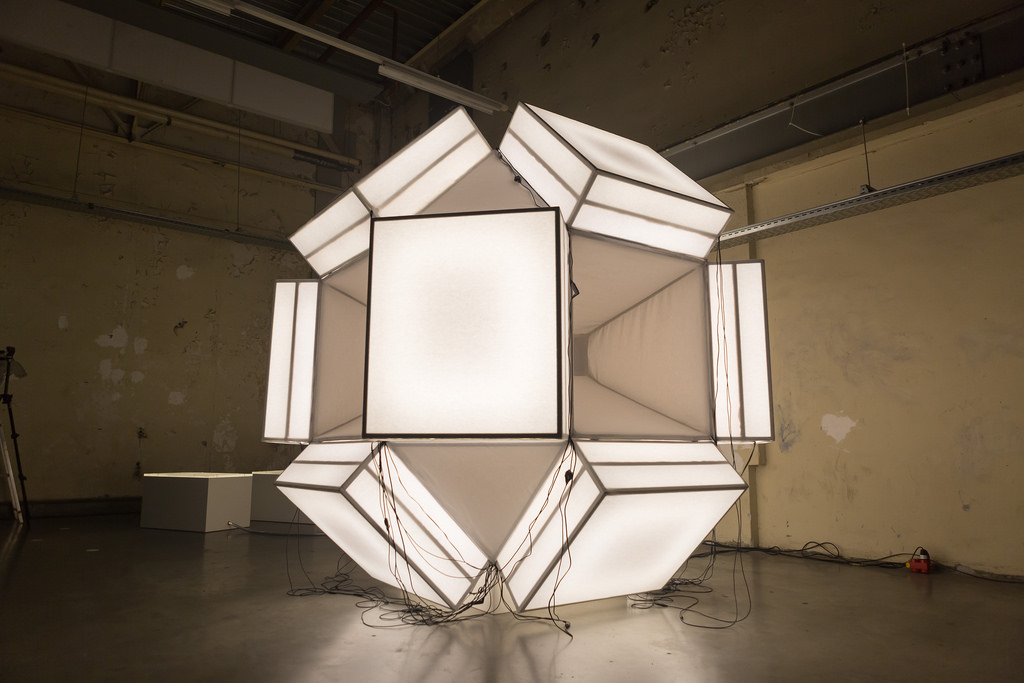 Polymorf, The Entangled Body, exhibition view at STRP. Photo: © Blickfänger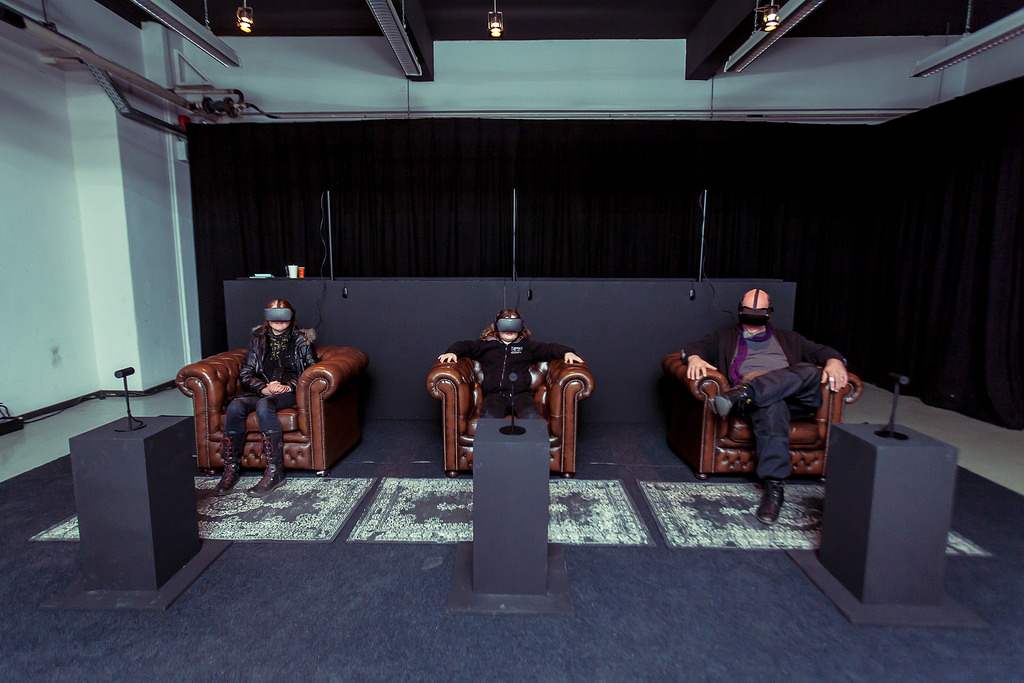 Memo Akten, Fight, exhibition view at STRP. Photo © Willie Kerkhof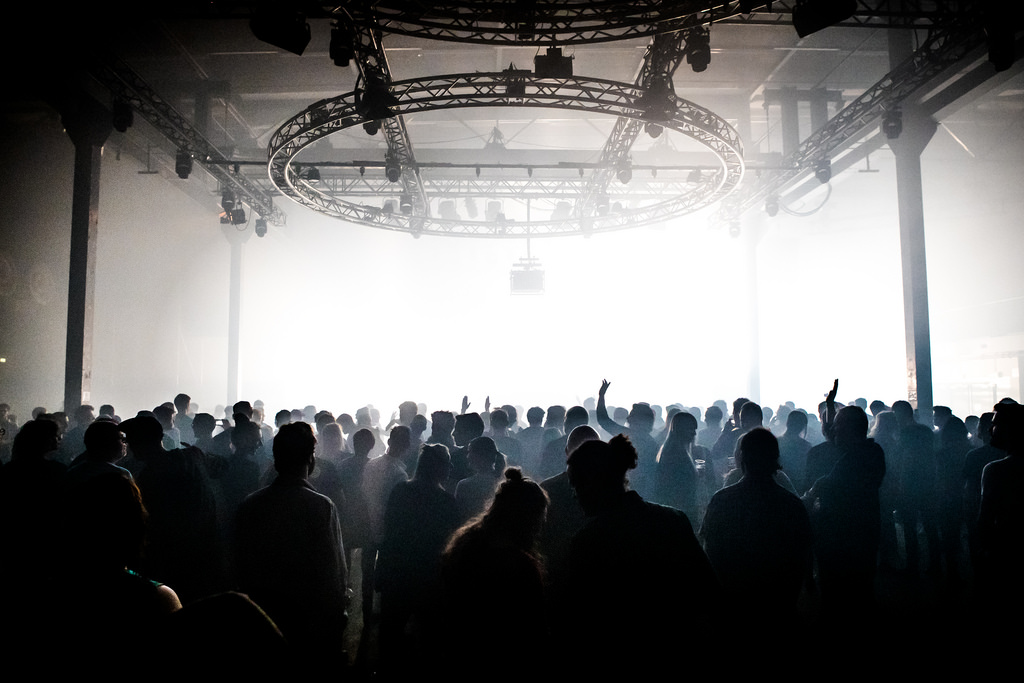 STRP Sounds x Albert van Abbe. Photo: © Marcel Krijgsman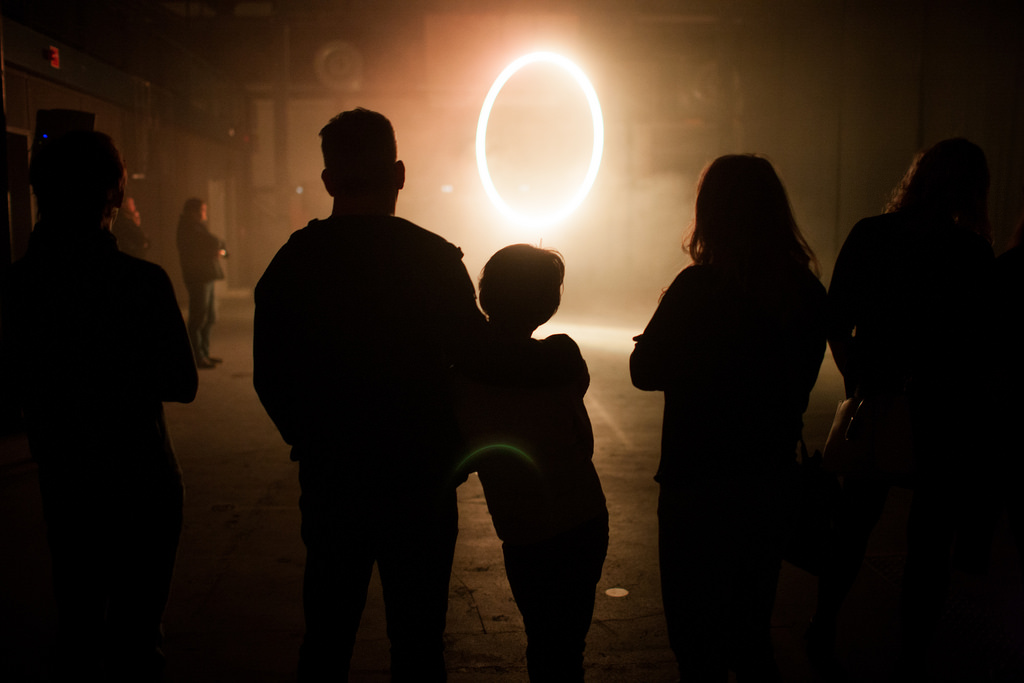 Children of the Light, Warping Halos. Photo © Boudewijn Bollmann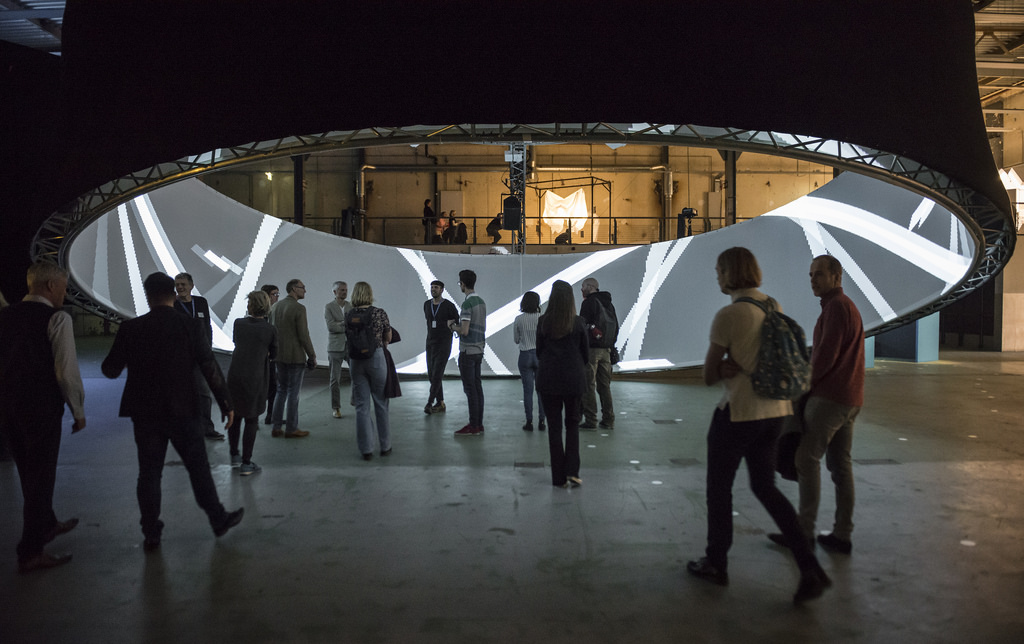 What if Collective, MGNT, exhibition view at STRP. Photo: © Ruud Balk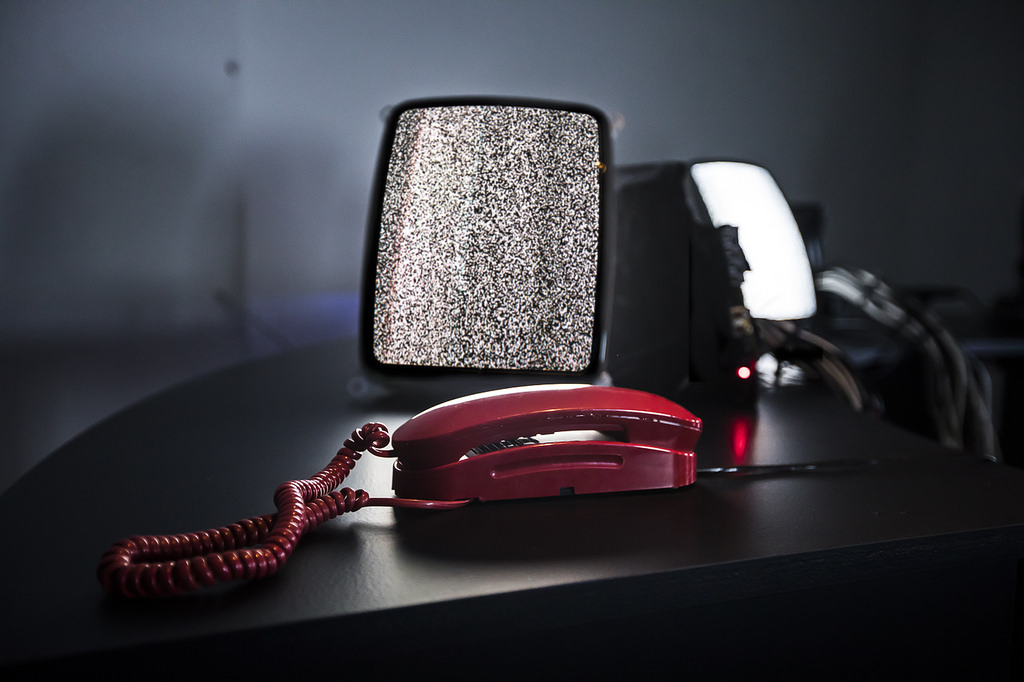 Sami Sabik, Digital Whispers, exhibition view at STRP. Photo: © Hanneke Wetzer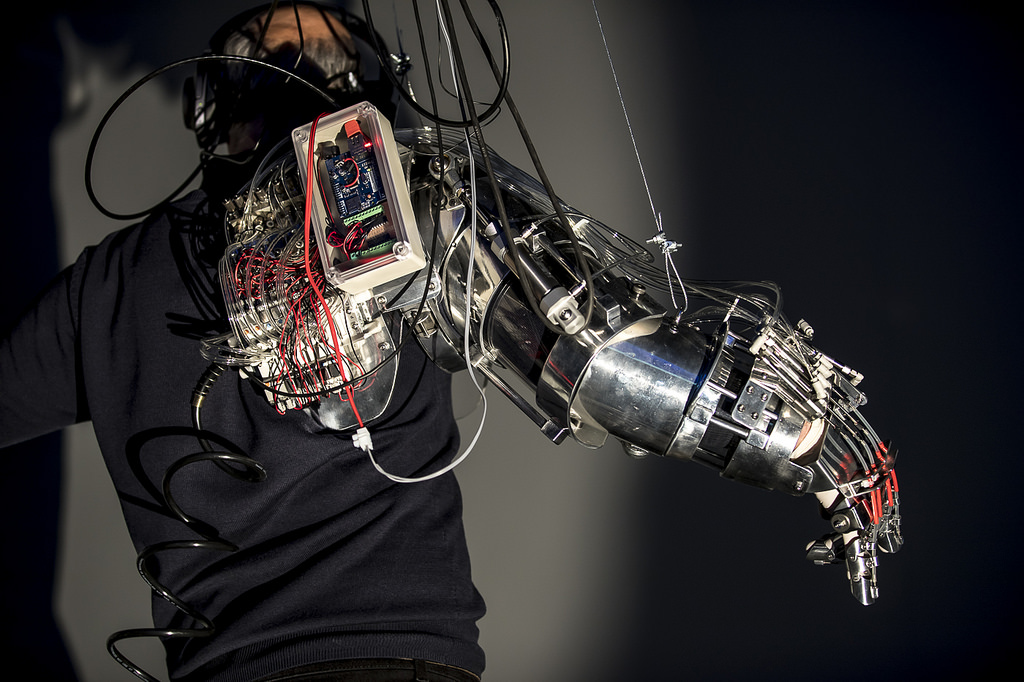 Stelarc, Rewired/Remixed. Photo: © Hanneke Wetzer
More photos: STRP Biënnale 2017, Conference for the Curious, Opening STRP Biënnale 2017, Press images STRP Biënnale 2017, STRP Sounds x Albert van Abbe, etc. I also have a flickr album.