The new episode of #A.I.L – artists in laboratories, the weekly radio programme about art and science i present on Resonance104.4fm, London's favourite radio art station, is aired tomorrow Wednesday afternoon at 4pm.
My guest will be artist and 'videosmith' Sam Meech whose work explores the role of analogue technologies in a digital landscape, and the potential to fuse the two in production, projection and performance.
I discovered Sam's work in Liverpool a few weeks ago, it was part of Time & Motion: Redefining Working Life, an exhibition at FACT that explores how the working day has evolved from the industrial revolution to the digital age. Sam Meech has hung over the gallery a banner which translates into a knitting design the working hours patterns of people active in the 'creative industry' and they are, as you suspect, radically (depressingly??) different from the traditional 8 hour shift.
On Wednesday afternoon we will thus talk about knitting machines & digital images, punchcards, knitted Muybridge horse animation, musical 'textiles experiment' and open source swan pedalo.
Sam Meech, Knitted Horse Firework animation – SD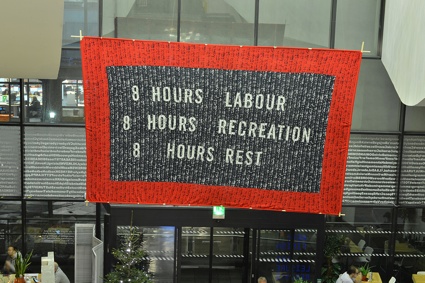 Sam Meech, Punchcard Economy, 2013. Installation at FACT as part of Time and Motion Redefining Working Life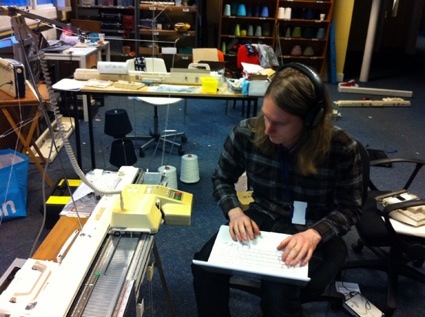 Sam is also a co-director of Re-Dock – a not-for-profit arts organisation, developing projects that explore ways in which communities relate to digital media, ideas and public space.
The radio show will be aired this Wednesday 19 February at 16:00, London time. Early risers can catch the repeat next Tuesday at 6.30 am. If you don't live in London, you can listen to the online stream or wait till we upload the episodes on soundcloud one day.