Last Saturday, the Mobile Entertainment Market in London awarded prizes to the key players who are driving innovation and commercial success to the mobile entertainment industry.
Among the winners was Ki-Bi Mobile who snatched the Innovation Award for its credit-card sized product that allows users to buy mobile content (ringtones, games, wallpapers, video, news, etc) in a shop and easily download it to their device,and also encourages repeat purchases of content that is paid for through premium SMS.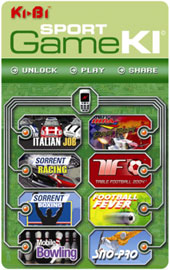 Let's also note that, Vesa-Matti Paananen – the inventor of the ringtone – was given a Special Recognition Award for his work when, in 1998, he devised a service to sell consumers music to replace their phone's standard ringtone. Paananen is now a founder and Chief Technology Officer of Add2Phone Ltd.
All the winners in 160 Characters.