Yes! Hamburg! i didn't see it coming either.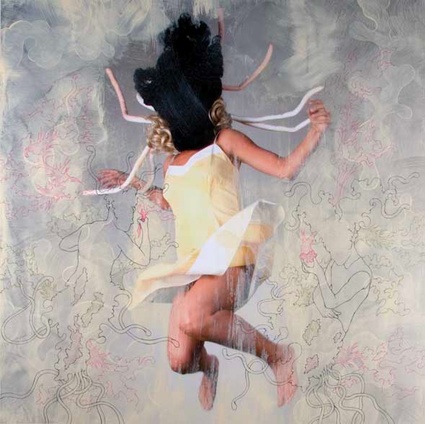 Artwork by Alex Diamond
Because i had wrongly assumed in the past that the size of a German city was proportionate to the importance of its airport, i was astonished to read in wikipedia that Hamburg is the second-largest city in Germany (after Berlin). Well, the place might not have Munich's fancy airport but it does have some arresting buildings in construction, an impressive warehouse district, the super popular Fritz drinks and a gallery which inaugurates a series of articles that will focus on some of the most exciting art galleries i got to visit over the course of my life as a happy blogger. I went to heliumcowboy only once. I read they had a show of Boris Hoppek's work, I won't fuck with you tonight, so i took the train from Berlin and on my way back i kept wondering "How come there's no space like that in the German capital?"
I doubt there are many galleries like heliumcowboy anywhere else either. First there's that name. Charming and puzzling. Not even an interview with the gallery director has helped me uncover its origin. Then of course there's the artists the space represents. Since its opening in 2003, heliumcowboy artspace has been showcasing artists 'who are capable of pushing boundaries, are a little underground and whose aesthetic is the forecast of art.' Click through their list of artists and you'll get the point.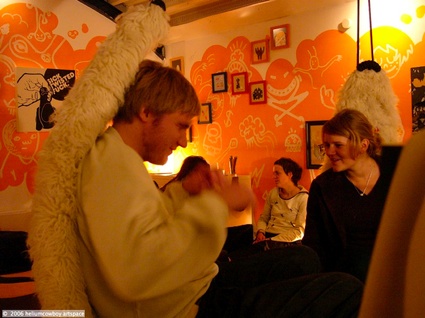 Photo © 2006 heliumcowboy artspace
Finally, heliumcowboy does openings that go way beyond tepid wine, polite conversations and bags of crisps. Each new exhibition is accompanied by live music, multimedia and performance relating to the the themes of the exhibition.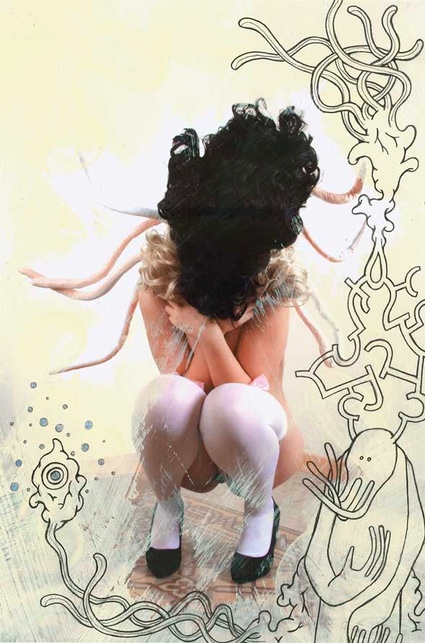 Artwork from Alex Diamond's latest show at heliumcowboy
I asked Jörg Heikhaus, the gallery director (click this way if you read german), to tell us what makes heliumcowboy such a unique and fantastic art space:
The 'about' page of the gallery defines heliumcowboy as a "hybrid cross of traditional gallery and urban exhibition lounge". I hope you will excuse my ignorance but what is an urban exhibition lounge exactly? Which role does it fulfill?
We are a traditional gallery in terms of our understanding towards the representation of artists – supporting them in any way possible, establishing them in the art world and subsequently on the market. In this context, "traditional" means that we understand and respect the processes, the knowledge- and business-demands of the industry we're a part of. The "urban exhibition lounge" sounds a bit dusty after doing this already for 6 years, but it still stands for the way we present us and our artists whenever we do shows or fairs or any other kind of exhibitions: our guests shall feel comfortable in an environment we create jointly with the artists for a young, urban generation. But you are right, after 6 years of proving our point we could shorten this whole sentence to one word: gallery.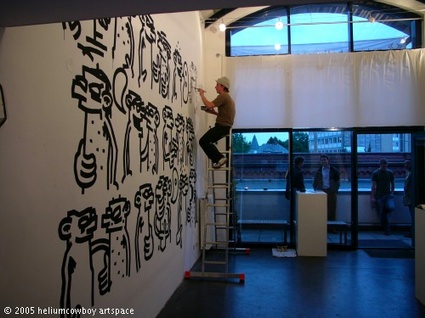 © Artwork by 56k. Photo © 2005 heliumcowboy artspace
Jörg Heikhaus, the founder of heliumcowboy is (along with many other talents) a graffiti artist himself. How does his practice inform/influence the selection of artists who exhibit at HC?
It's just history, the background we come from. I have no time to do art myself any longer, and the last time I stood at a wall is almost 20 years ago. So it is a "was", amongst many different things I did over the years. But because Graffiti has become a vital part of contemporary art, my past is helpful: I can fully appreciate what is happening on the streets today and how it has developed in the past years. For me, a deep understanding of the culture, ideally mixed with own experiences in Graffiti, are a prerequisite for working with Urban Art from a gallery perspective.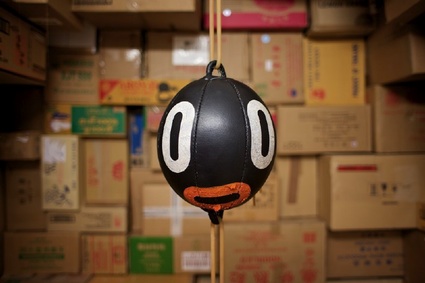 © artwork by Boris Hoppek. © 2009 heliumcowboy artspace
Many of the artists represented by heliumcowboy could lazily be described as 'street artist'. Do you think that this expression "street artist" does justice to the artworks the gallery exhibits and sells?
Many of our artists "could be lazily described as …" doing what they are best at and what we think is extraordinary and exciting about these individuals. Only few have actual roots in street art. What they all share though is a new approach to what is contemporary art, and street art and the accompanying cultural and social effects are a part of it. We started to label this as "New Urban Contemporary". We feel that one sums it up best.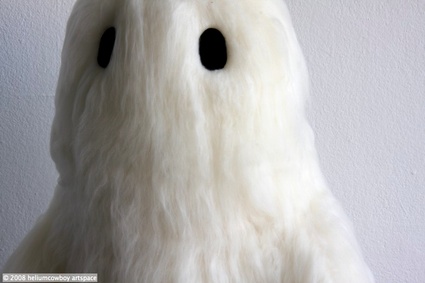 © Artworks by Nina Braun. Photo © 2008 heliumcowboy artspace
Did the recent obsession with all things Banksy have any effect on the gallery and the artists associated with it? Have these emerging artists become more appetizing for the art market? Did you get more attention from the more 'traditional' contemporary art press as well?
Urban art, Graffiti, Street art – the amazement started to cease once the markets crumbled. And traditional press is always just interested in big names, and we can't really offer celebrity hype. There are only few places reserved in the glamour section for the Banksy's of today, but there are enough deck chairs in the sun for the best, most unique and hardest working artists. We try to make sure that our artists get all support necessary to focus on their work. And besides establishing new voices in art we also know that successful communication and promotion is not a pure privilege of the "traditional" art media any longer.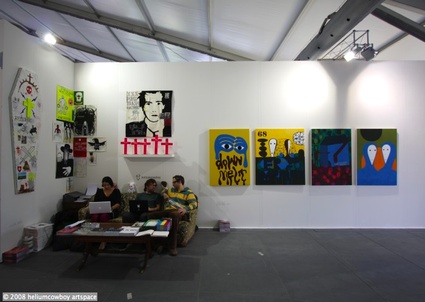 heliumcowboy booth at Basel art fair. Photo © 2008 heliumcowboy artspace
How important is it for heliumcowboy to have a booth at the Basel art fair?
To be seen outside of Hamburg, to get to know international collectors and curators, to establish a world-wide reputation – fairs are a vital part of that. Basel, despite it's small town feeling (compared to the 2 other, most important art fair locations, Miami and New York), is like a magnet for the nomadic art enthusiast. Having a booth at a premium art fair in Basel like VOLTA or SCOPE is key to being successful in Europe.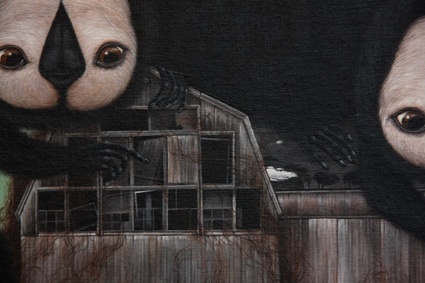 © artwork by moki. Photo © 2008 heliumcowboy artspace
heliumcowboy artspace exhibits mostly emerging artists. Isn't that a bit risky for a middle-size city like Hamburg? Isn't the Hamburg public more used to traditional art and less likely to follow your more adventurous selection?
That's exactly why we do art fairs and exhibitions abroad. Hamburg is a good city to be headquartered with the gallery, but the contemporary art market focuses much more on exciting cities like New York, London, Berlin, etc. Also, we mainly work with international artists, this means we bring something to the city that helps improve Hamburg's reputation and is something people from here don't see that often, unless they travel.
As long as we get the visibility we need on a world-wide scale, we couldn't be happier than being in Hamburg – it's a fine city, with a vibrant art scene, good people and the best football club in the world (St. Pauli of course). There is no such thing as Hype, which is helpful if you want to develop something sustainable and of high quality. The only drawbacks are the many traditional art buyers (give 'em a painting of a ship in the harbour any time) and the lack of support from the public authorities. For the senate, contemporary art is never as important as the next musical.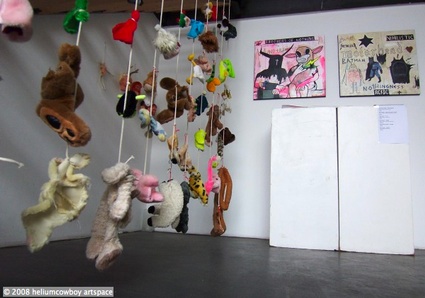 © Artworks by Christophe Lambert. Photo © 2008 heliumcowboy artspace
heliumcowboy's website is in english. Does that constitute a clue of the international clients and audience the gallery hopes to attract?
For years now, heliumcowboy artspace is an internationally recognised gallery. We have almost 60.000 unique visits every month at heliumcowboy.com. Only 15-20 % are from Germany. Most of our artists are not German. The majority of our sales are to international clients. Since 2006, we attend three major art fairs in Miami, New York and Basel every year – but not one in Germany. Our newsletter is bi-lingual, but because our website is more like a magazine with new posts every other day it would be impossible to translate with the staff we have.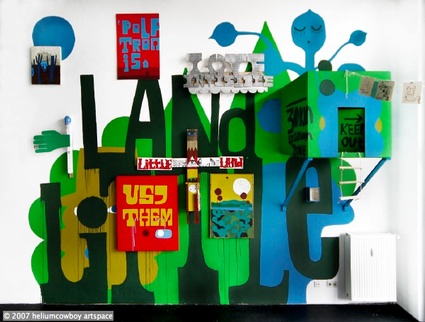 © Artworks by NeasdenControlCentre. Photo © 2007 heliumcowboy artspace
More generally how's the contemporary culture like in Hamburg? Does it work like some kind of satellite of trendy Berlin or does it have its own taste, drive and dynamics?
As I said – there is no Hype in Hamburg. It is calm and unagitated. But it definitely has it's own dynamics and flavours, and this created a unique, large cultural scene, be it in music or arts. Once you've tasted it, you won't be needing Berlin any more …
But seriously: you can't compare these cities. Both are totally different. There seems to be more sugar in Berlin, that's why so many people move there …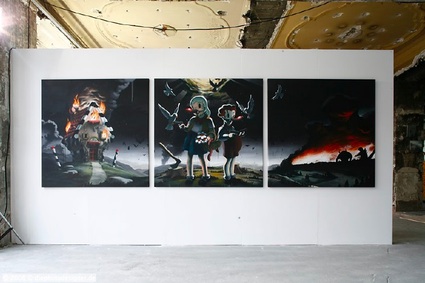 © 2008 heliumcowboy artspace. © photos by diephotodesigner.de
Can you explain us the name? heliumcowboy?
Over a couple of beers, because that's how it came up… however, I like the image of the hard-working, earth-bound cowboy in contrast to helium, an inert gas, that (at least as the result of a physical chain reaction) makes the stars shine …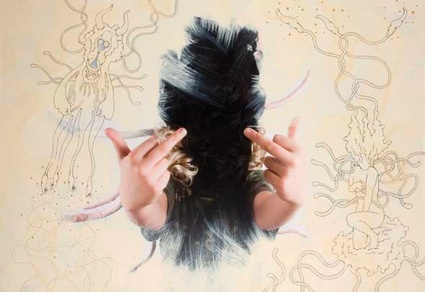 Artwork from Alex Diamond's latest exhibition at heliumcowboy
Thanks Jörg (and Nadine who helped me set up the interview!)
Don't worry 'bout a thing (Being Alex Diamond) runs until November 13 at heliumcowboy in Hamburg, Germany.