UnitedVisualArtists's work integrates art direction, production design and software engineering. A look at their portfolio is an eye-popping experience. The images are somptuous and their clients include fashion designers, night clubs, pop stars, rock stars, music shows… lots of music shows.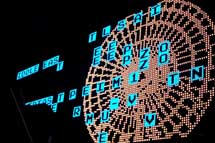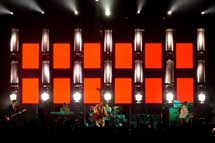 OneDotZero Festival 2005 and Travis. 12 Memories
I first got to know about them a few years ago when they created a huge video wall without video for Massive Attack 2003 world tour. The entire show was made out of text and newspaper headlines printed out in time with the music. The system explored digital representations of information, filtering real-time news, stock-market prices, weapon shopping lists, spam emails, virus alerts and weather reports to create a 'picture of now' translated into 36 languages.
Then i read that they had made some installations at a club in Soho, London. And i did check it although i've clubbed so much in the past that now i'd rather watch the Eurovision song contest than enter a night club again. At Kabaret's Prophecy, they covered two walls with MiPIX system, which can display lighting effects, 3D logos, graphics and even video content. The moving images can curve around the contours of the walls and wrap themselves into the alcoves and respond to the mood of the room as well as the mood of the music.
A VJ from UVA is present every evening to mix live the visual content and suit the music and the atmosphere in the venue.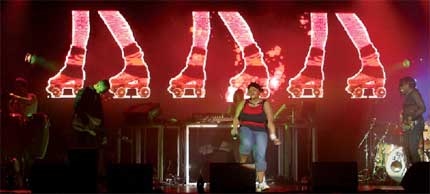 Basement Jaxx. Kish Kash
I wrote about some of their other projects here and there and thought i should stop wondering who they were exactly and just ask them.
Can you tell me something about the "history" of UVA? When and how did it start?
Each of the three UVA directors (Matt Clark, Chris Bird and Ash Nehru) had previous experience, working for a mixture of music and commercial clients.
Matt's background was mainly print design, Chris came from the club visuals scene, and Ash had escaped a job writing 3D games engines to travel the world with a virtual dancing robot, which is how Ash and Chris met. Chris had moved into working for bands, touring with Nine Inch Nails and the Pet Shop Boys, before meeting Matt working on Leftfield's 'Rhythm and Stealth' tour in 2002.
Matt and Chris landed the job producing visuals for Massive Attack's 100th window tour, and approached Ash to write software to make their vision possible. UVA started life in a tiny 3-man office in a dingy building in Brixton, South London, and grew from there to our present palatial studio space in Borough.
Our creative process was unusual in many respects (not many people would be crazy enough to set out to develop a completely new piece of software in three months) but the creative 'triangle' between art direction, production and software engineering was so successful that it became the template for all our subsequent work.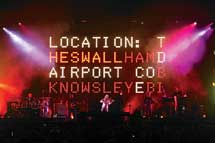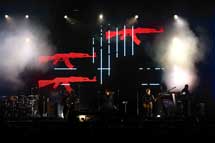 Massive Attack 2003. World Tour
The 2003 Massive Attack tour seems to be one of your first projects. How did you manage to get such a exciting commitment? Can you tell me more about the background of the tour? Was the technology behind the installation easy to implement? Did it all work smoothly?
The Massive Attack project came about as a result of Matt and Chris's previous work on Leftfield and Pet Shop Boys tours. They heard from the tour manager that Massive Attack were going on tour, and sent in their show reel and ideas for consideration.
Once the project was secured, Matt and Chris approached Ash to create the software, and UVA was born. Ash developed a real-time rendering system (codenamed mosquito) from scratch, specifically for the tour, in an intensive work period lasting three months from first code to first show. As with all new code there were the inevitable bugs, and many hours of soak-testing and debugging, but the end result was reliable enough to make it through the entire tour. All shows were run with two machines, so if one crashed we could switch immediately to the hot backup. To my knowledge this happened only once, in Japan, where we'd translated the entire show into Japanese.

Fashion Rocks! 2005. Prada/The Kills
Did you see an evolution in market opportunities since you started UVA? Are people more open to interaction design than they were in the past?
We have definitely noticed changes. People as a whole are more open to the possibilities of interaction, but they want it on their terms. Clients want the benefits of interactivity and generative content but also the usual benefits associated with "static" content. They want to have their cake and eat it! We still have some way to go before people "get" that interactivity offers something much more than a "feature", it's a different way of thinking, and a loss of control in some ways. It's understandable that people can be scared of these things. New things always are.
When you work on commercial projects, do you feel that you have "carte blanche" to develop your own ideas? Do companies trust your creativity or do they oppose some resistance to ideas they don't understand? How do you deal with possible clashes?
Every client is different. The best ones understand that the creative process is inherently experimental, and free us up to explore different avenues. Others want up-front 'guarantees' of what the results will look like, which requires a lot of effort in storyboards and ends up restricting the result. Clashes are best avoided through communication, and having a clear understanding of what the client wants from us. Sometimes clients don't want rocket science, and that's perfectly valid, although less interesting to us – we enjoy the rocket science part !

Hamish Morrow's models walking down the catwalk were preceded and followed by their digital "shadows". Following the show actual prints of the virtual projections were made onto several of Hamish's pieces.
You also work for other artists. How much do you learn from a collaboration with, say, the fashion industry?
We like working for the fashion industry because they have a taste for the fabulous. They understand how important performance and spectacle is. How important a memorable moment can be. Once you have someone paying attention, you can do amazing things, and to have them never forget it? The best of all.
You have an impressive portfolio, does it leave some time for developing experimental, personal projects?
Much of our development for our commercial clients is entirely experimental. We usually have an intensive R&D part of any project, where we experiment together with the client – let them be creative in their collaboration with us. Last year we had our first gallery show in London and continued with our live performances (at OneDotZero and other places), these were both places to try out new ideas, which have fed into our commercial work – for example the Colder video came directly from our previous work on the Mirror installation.
Your installation at Kabaret's Prophecy is a permanent one. Does it involve constant maintenance? How do you think the installation will "age"?
There is always maintenance associated with such a large installation of a complicated, new technology. For both software and hardware. The aging question is a very interesting one to us. Will LED look old? Will it appear antiquated? Will its light seem fusty at some point in the future? When the crowd is really going it feels like one of the newest places in the world.
Are there new technologies you'd like to explore?
We're always interested in looking at new technology, not for its own sake but for the freedom it brings to create new experiences. We're particularly interested in servo technology, to create installations that move; we've bought a programmable robot kit and will incorporate the robot into our shows in due course. We're also interested in the creative potential of moving camera rigs, eye trackers, head-mounted cameras, 360-degree and ultra-high-resolution video cameras, and improved real-time 3D sensors; in general, the potential of video/lighting shows to be controlled by the performers. New developments in passive display technologies such as e-ink and electrowetting, and of course O-LED screens, are of great interest as well.

MTV/Motorola. Motomash
A big institution like Tate Modern hardly ever includes interaction design or media art works in its exhibitions. Do you think it will ever change? Don't you believe that your work can appeal to the fine art crowd as well or are you too geeky?
We don't position ourselves as 'fine artists' so we're not particularly concerned by this issue. As with all new things, we should expect the establishment to take a little time to identify its value. It's happened with video art in the past, so there's no inherent reason why it shouldn't also happen with interactive art.
We don't know if the art world has worked out how to make money out of "interactive art". When it does, they will. The ageing question is a big problem. How do you deal with software problems? Viruses? Do you provide a contract for support for the next 100 years? Does it even make sense to sell a 'physical' piece when software is so easy to transmit and reproduce?
We don't think there is much point in labelling something. We are more interested in creating experiences that people remember. It doesn't matter if they were at gig or a gallery show.

Thanks Joel (Interaction Designer at UVA)
UVA is @ V&A this Friday 24th February. onedotzero have invited over 20 key creatives that represent the breadth of moving image programming onedotzero explores: across motion graphics, music videos, short films, interaction design, live audio –visual performances, music and architecture.
February 24, at the Victoria & Albert Museum in London.