One of the rules of this blog is never to make announcements of events. Every rule comes with its exceptions… The November programme of the VASTAL workshops and lectures is out!
The VivoArts School for Transgenic Aesthetics Ltd. is Adam Zaretsky and Waag Society's temporary research and education institute on Art and Life Sciences. It's free, open to the public and i hope you'll allow me to remind you how much we enjoy them:
Day 1 at the VivoArts School for Transgenic Aesthetics: Seed broadcasting workshop
Image of the day
Tissue Culture Lab at the VivoArts School for Transgenic Aesthetics (part 1)
Tissue Culture Lab at the VivoArts School for Transgenic Aesthetics (part 2)
Wednesday 11 November
Body Art Lecture with performance artists: Kira O'Reilly, WARBEAR, Jeanette Groenendaal and Boryana Rossa.
The artists will speak/perform together about: the body in performance and stressed physiology as personal or public shock chemistry; pure culture technique in science and its effect on the making of clean and dirty bodies; artist's input on future body aesthetics during the present genetic reproductive redesign of the human form; erotic containment and the thrill of contagious patients exploding; experiments, lab animals and the distance (or presumed distance) that objectivity implies, etc.
Thursday 12 November and Saturday 14 November
Body Art Lab which, i'm told, will involve blood and sex performances in the Glove Box. "Various performance artists will be ritually cleansed and enter the glove box one or two at a time. Various performance artists take turns in the box interacting with the public or other actors reaching into them with the gloves. This is experimental Body Art with a biological theme that references experiments, lab animals, the pure and the impure as well as the distance (or presumed distance) that objectivity implies. "
The Vivoarts Performance in the Glove Box, is a Mason Juday and Adam Zaretsky Production and will feature Boryana Rossa, Oleg Mavromatti, Zoot Derks, Jeanette Groenendaal and WarBear.
Tuesday 17 November
Animal Personality Art and Science Lecture and Lab with Dr. Kees van Oers or one of his colleagues and Koen Van Mechelen.
Dr. Kees van Oers studies the genetic background, physiology and fitness consequences of variation in avian personality. In 2005 he obtained a personal VENI-grant to study the evolutionary genetics of personality using a linkage study in a natural population. This work is currently extended in collaboration with the Animal Breeding and Genomics Center in an NGI-grant on songbird genomics.
Koen Vanmechelen is a Belgian conceptual artist whose work engages with issues of genetic manipulation, cloning, globalisation and multiculturalness. The artist is currently working on The Cosmopolitan Chicken project, an experiment to develop a super-hybrid chicken.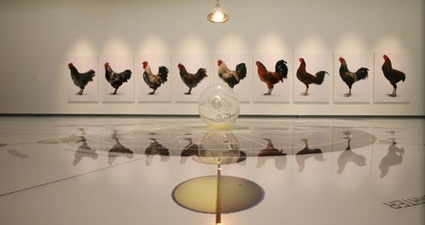 Koen Vanmechelen, The Cosmopolitan Chicken Project
Koen Vanmechelen's The Cosmopolitan Chicken Project chickens will be installed from Nov 5 to Dec 6 at the Muziekgebouw aan het IJ in Amsterdam. Vanmechelen is also having his first solo exhibition in a U.S. gallery at Conner Contemporary Art in Washington.
Featuring live chickens, the exhibition also includes taxidermy and blown-glass sculptures, video, and photography, as well as drawings and paintings in tempera made from eggs laid by chickens bred by the artist.